John Harwood Pierce
Biography: Part 5 1893 to 1908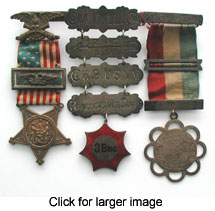 Wahpeton, North Dakota. Sometime around or before 1892, John was living in Wahpeton, North Dakota. He lived there long enough to not only join the local Grand Army of the Republic (GAR) Post, but also to be chosen by its members to serve as Post Commander. In that capacity, he also served as State and National Delegate. Among John's archives, is an official GAR Post document, complete with gold seal; the document is a "Transfer Card," dated July 19, 1983. It certifies that John served the Post in good standing, gives the offices he held during his tenure at the Post, and gives details about what companies and divisions John fought under during the Civil War. A Transfer Card was given to members whenever they indicated that they would be moving to another city. Its purpose was to certify that the bearer was a "member in good standing" and to recommend "him for admission to any Post of our Order" in another city. It is while serving as Post Commander that John received a very fine, blue, Civil War uniform befitting his status as Commander. He treasured this uniform for the rest of his life and wore it often in parades and on the stage. Above is a photograph of the actual medals that John pinned on this uniform. The medals correspond to John's Civil War service record.
Reverend. It is not known how John made a living while he was living in Wahpeton, but from this point in his life onwards, Johns papers show that he began to refer to himself as Reverend, to write religious poems and sermons, and to officiate at weddings. It is possible that John served as a minister in Wahpeton and had a following of parishioners. However, for the rest of his life, whenever he was asked why he did not serve in a church of his own, John typically replied that he was "too old for the burden of a pastorate, but continued to serve the poor and sick, and to officiate at weddings."
Settled in Minneapolis; Married to Lucy A. Wellsman. For the four year period from 1893 to 1897, we find John settled in Minneapolis, Minnesota and married to Lucy A. Wellsman. He traveled a great deal during this period, making his living as an entertainer and lecturer all over the Mid West. In his archives are newspaper reviews about his shows. There are also newspaper advertisements announcing his upcoming performances; now, he calls himself The Rev. Col. J. H. Pierce. One newspaper clipping states:
Col. Pierce is now a resident of Minnesota. His magnetic eloquence was recognized in New York City, where at the Cooper Union and the Coliseum audiences of many thousands were so delighted with his oratory, that the New York World on commending said: A man of power and full of fire; he greatly moved the hearers again, and again.
In Much Demand as an Orator. John was the lead speaker at the Lyceum May Day Celebration in Minneapolis on May 1, 1884. The Times of Minneapolis reported how John "kept the audience in a continual uproar by his humor." A few months later the Daily Free Press of St. Paul describes one of John's lectures as follows: "Col. Pierce was the speaker of the evening and he is one of the most able and eloquent orators of the times. He showed up injustice and wrong like a Patrick Henry."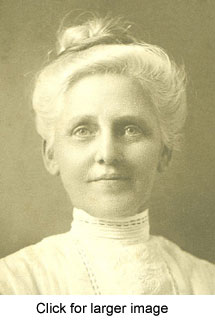 Clara and John Together Again. In the coming years, John had speaking engagements all over the northern Mid West. He traveled to South Dakota, North Dakota, Minnesota, Wisconsin, Illinois, Iowa, and Nebraska. It is not known where Clara Brodrick Parker was living at this time, but somehow John, Clara and his son Council rediscovered each other. Perhaps John knew their address and made contact with them when he was giving a lecture in their town, or perhaps, Clara read about John in her local newspaper and visited him at his engagement. What is known, however, is that John and Clara found each other again and their love affair resumed. The photograph on the right was probably taken in 1897. Even though Clara was 44 years old when the photograph was taken, she was still a ravishing beauty. John must have fallen head over heels in love with her all over again. But fate had him in the same boat; just like the first time he fell in love with Clara, he was already a married man. Because of his frequent travels, he was away from his wife Lucy a great deal of the time. Lucy and John had no children that might have made their marriage closer. Yet Clara and John had a son, now a young adolescent.
By late 1895, although John was still leagally married to Lucy, he and Clara were openly living together as man and wife. In a 29 December 1895 letter from Clara's father (James R. Brodrick) to his son and Clara's half brother (Harry Clark Brodrick) concerning who should be invited to Harry's upcoming wedding to Alice Belle Ames in January of 1886, Clara's father listed Clara and John as a couple who should be invited to the wedding. He gave their address as 1503 Hinepin Avenue, Minneapolis, Minnesota. Clara's father was a very respectable, Christian man who would not have allowed his daughter to be living openly with John Pierce if he did not understand that the two were legally married. It is very probably that Clara told her father long ago when Council was born that she and John were legally married. When John returned to her life after almost a decade of living elsewhere, she must have announced to her family that her husband had returned. In the same letter, Clara's father tells his son that:
Pierce is still at work for the [Omaha] Bee. When Clara wrote, said he had been in Lincoln [Nebraska] several weeks, was then in Grand Island [Nebraska.] Guess he will stick to this awhile, hope so at any rate.
It is obvious from this letter, that John was once again employed as a reporter for the Omaha Bee and traveling extensively on behalf of the newspaper. Why John and Clara chose to make Minneapolis their home is unknown. It was also the home of John's legal wife, Lucy. Perhaps it was only a temporary home for John and Clara while John worked to settled his complicated marital affairs.

Lucy and John Divorced; Clara and John Married Whether pressured into marriage by Clara, or by his own desire to make things legal, John and Lucy were divorced. Their divorce decree was granted on May 5, 1897, by the court in Minneapolis, Minnesota. On the very same day, in the city of Houlton, in St. Croix County, Wisconsin, John and Clara were married. At the time of their marriage, their son, Council was 15 years old.

Back to Omaha. For the first years of their married life, John and Clara returned to Omaha, Nebraska and made that city their home. They had many reasons to return to Omaha. First, John always consider Omaha his home. As a young man, he had become famous there working as a journalist for the Omaha Bee. There he had a built a remarkable reputation as the "Ranger of the Plains." The area around Omaha, was also home for his sister and mother. For John, Omaha always had a strong emotional draw. It was also an important city for Clara. Clara's first child Nellie, was now a beautiful 20 year old woman, and Nellie was engaged to a young man living in Omaha by the name of Guy Taylor. By trade, Guy was an architect, contractor, and builder. In Omaha, on May 11, 1898, Nellie and Guy were married. A year later, on February 24, 1899, the young couple were blessed with a son. They named him Clarence Parker Taylor. Clara was a grandmother, and John had an infant step grand son to spoil.

Soon after John, Clara, and Council settled in Omaha, John's sister, Clarissa moved her family to Oakdale, California, a few miles northeast of Modesto. Clarissa and her husband Charles Henry Smith took their two youngest children with them, Carl Clide and Ida Mable. Their adult son, Justin, a widower, accompanied them together with his two young sons, Leo and Earl. The couple's other living adult children--Arthur, Albert, Stella and Walter--remained living in or near Dixon County, Nebraska.

Back Working at the Omaha Bee. During this period in his life, John once again returned to journalism to make a living. Most likely, he started out as a reporter, but eventually landed a position as Manager for Circulation and Subscriptions. A few years later, Guy Taylor had the opportunity to write a letter of recommendation for his father in law, Guy says:
I was in Omaha when he was on the Bee... For the Omaha Bee... he has done more than I ever knew of being done by one man for any business of equal magnitude. His work spells success...and started their river of money.
One has to wonder why John left his career as a traveling orator to settle in for a period with a desk job for the Omaha Bee. Perhaps he was tired of traveling. Perhaps Clara wanted him close to home. Perhaps he wanted to reinvent himself as an upright and proper business man. Whatever the reasons behind the change, it is not surprising to find out that the change was short lived. John was too independent and restless to be tied to any one job for very long. Once he made a success of anything, it was time to move on to something else.

Moves to Oakland, California. Sometime around 1901 or 1902, John and Clara moved to Oakland, California. Perhaps they moved to California to be closer to John's beloved sister, Clarrisa. John had not seen Clarrisa for a few years. By this time, Clarrisa and her husband Charles Henry Smith were living in Oakdale, northeast of Modesto. Charles owned and operated a laundry. So, John, Clara and Council moved from Omaha, Nebraska to Oakland, California. By the middle of 1902, we find the Pierce family living in Oakland and John working for the Oakland Tribune as a Circulations Manager.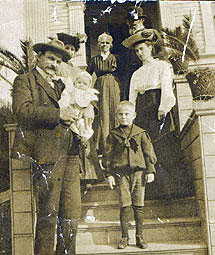 Nellie and Guy Taylor Move to Oakland. Clara's daughter Nellie missed her mother, so she convinced her young husband to move their family to California. The picture on the right shows the Pierce and Taylor families around 1904 in Oakland, California. At the time of the picture, Nellie and Guy have another child. On July 14, 1904, Nellie gave birth Robert Thomas Taylor. The photography shows Guy in the foreground, holding his new infant son, behind him is his wife Nellie and in front is their other son, Clarence. In the background, at the head of the steps, are John and Clara. An unknown friend stands on the right side of the steps. This is the only picture we have of John where he does not have a long, free-growing beard. In this photograph, John's beard is neatly trimmed. John must have had to appear more civilized for his desk jobs, or perhaps, Clara preferred him with a more business-like appearance.
Guy's first job in the Bay Area was working for the Suburban Home Building Society of San Francisco. At the same time, his father-in-law was serving as Superintendent of Agencies for the same Society. In this job, John used his magnetic personality and connections with people of wealth to obtain venture capital for the Society. John was a success at selling projects and before long, according to Guy's letter of recommendation mentioned above, the Society had a river of money flowing for their new building projects.
John's Married Life Unraveled. Sometime between 1905 and 1910, John's settled, married life with Clara began to unravel. The couple began living separate lives. Clara continued to live at their house on Laguna Ave. But John bought a large office, suitable for living quarters, across the street from the Oakland City Hall, and he bought other real estate that he rented, or lived in within the city boundaries. He stopped trying to be a respectable businessman with a desk job. John began working hard at becoming a celebrity once again.
A Celebrity Once More. John was on his own now; he was back doing all the things he liked to do. Once again he wore his impressive, thick head of white hair long and wavy; all around his face hung a long, velvet white beard. Out of mothballs, he took his grand Civil War Commander's uniform that he'd received while serving as Commander of the Wahpeton, North Dakota Post of the GAR. He joined the local chapter of the GAR in Oakland and became much sought after as a patriotic speaker at their meetings. On Memorial Day, he wore his Civil War Commander's Uniform and marched in the Oakland Memorial Day Parade. He lied and told everybody that he was older than he really was. He wanted to be one of the oldest and fittest Civil War veteran at the ceremonies, even if it meant telling a small white lie about his age. Also, being older made it easier for him to wear his grand Civil War Commander's uniform without anyone asking questions he might not want to answer. The other GAR members were probably too shy to speak, but not John! When he rose to speak to the large Memorial Day crowd he knew exactly what to say to move every patriotic heart. He knew exactly what to say to get them laughing and enjoying themselves before their Memorial Day picnics. He worked the crowd like the professional orator and entertainer he was. The crowd loved him! Once again, he was an instant celebrity. He was front page news for the Oakland Tribune. John craved the attention and adoration that came with being a celebrity, and now he had it once again.
Click Part 6 here, or below, to continue this biography.