John Harwood Pierce
Biography: Part 4 1887 to 1893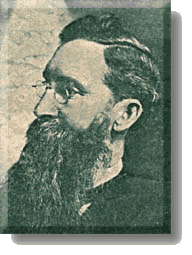 Moved to Plantsville, Conn. Shortly after the Electic Bell was launched and started bringing back a steady income to its two investors, John moved to Plantsville, Connecticut. It is likely that John moved to Plantsville because it was near the headquarters of Peck, Stow and Wilcox. He wanted to be close to the action, close to where other inventors were working and selling their products. After John moved to Plantsville, the advertisement documents for this Electic Bell shows his company had offices in both Omaha, Nebraska and Plantsville, Connecticut.
Left Three Woman and Three Children Behind. Moving to Plantsville must have had other advantages for John at this period in his life. While living in Omaha, he was close to three woman who must have been making demands on his time and money. First there was his mystery daughter Helen and her mother. These two were probably still living in Omaha. Second, there was Ruth and his daughter Mary living nearby in Chicago, or perhaps in Dixon County, Nebraska where the annulment occurred. The courts of Nebraska had ordered him to pay Ruth $20.00 a month in alimony. Third, there was Clara and her two children. Undoubtedly, Clara looked to John for support money to help her in raising Council. No doubt John thought, like many men in similar circumstances in his day, that he could run away from his responsibilities by moving to a far away city. If he were a journalist, he would always be in the spotlight and the women in his life would know exactly where to find him. By becoming an inventor, and moving to the East coast, he could more easily begin a new life free from unsolicited contact with people who knew him in the Mid West. In any case, move to Plantsville, he did. How the women fared in his absence, or whether John continued to pay Ruth alimony, is unknown.
There was another reason why he might have felt inclined to leave the Omaha area at this time in his life. For more than two decades, his mother and sister had been living in Ionia Nebraska. This was not too far from Omaha, and one could assume that John visited with his mother and sister from time to time whenever he could make the trip. As a journalist, he traveled all around the country, but Nebraska must been the closest thing to home. By 1887 that was no longer the case. By the time John left for Plantsville, his mother had already passed away, and his sister, her husband and eight children were now living in Modesto, California.
Interviewed for the Boston Globe. In 1887, while John was living in Plantsville, he was interviewed by a reporter for the Boston Globe. A full copy of that interview is appended to this biography. It makes extremely interesting reading! John was a master at self-promotion, and no doubt he played some role in bringing the interviewer from Boston to his doorstep in Plantsville. Perhaps he had sent the Globe an anonymous tip about some fascinating inventor living in Plantsville that would make a great story for their newspaper. In any case, the interview gives a colorful portrayal of John's engaging and grandiose personality. The interviewer described him as an "inventive genius," a man who was "prepared to astonish the world with the magnitude of his schemes." Although Plantsville was a small community of only about 1,500 people, John lived in relative obscurity, occupying an apartment within a boarding house. The reporter interviewed John "in his apartments" which were described as full of "models, patents, scientific papers and drawings."
Searched for a Capital. John sought the interview in the Boston Globe because he was looking for wealthy people willing to fund his grand inventions. The Electic Bell was a simple invention, one that could be invented and manufactured in a small personal laboratory. What John was working on next were very grand schemes that needed enormous capital to build and promote.
Pneumatic Passenger Conveyances. For the next two years John worked at trying to develop and promote various types of pneumatic passenger conveyances. These were not large vacuum tubes; rather, they were designed to allow a stationary engine to create a strong, cyclonic wind that would push small, one-passenger cars through a tube. The cars would travel at great speeds for great distances. He envisioned such pneumatic tubes under the Atlantic Ocean carrying passengers from New York to England, or under the earth, carrying passengers at high speeds from one city to the next. He had laid out his mechanical drawings and gathered together a number of scientific papers that seemed to support the viability of this concepts. Next, he needed financial backing to create a working model.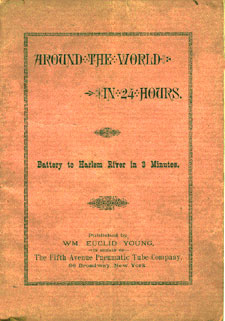 John Moved to New York City Formed the Fifth Avenue Pneumatic Tube Company. Unable to find capital in the Boston area, John moved to New York City. There he contacted all the wealthy men he had known in his charmed life; with each man he tried to gain financial backing for his invention. Eventually, he gathered together this impressive group of famous investors: General Daniel Macauley, a retired Civil War general; William Euclid Young, owner of a New York City bank and Wall Street brokerage firm, and Lindley Murray. Together with John Harwood Pierce, these four men formed the Fifth Avenue Pneumatic Tube Company with headquarters at 66 Broadway, New York. The group published a twelve page prospectus concerning the invention. The prospectus further explained that they intended to raise capital to build a working model that would run from Battery Park to Harlem under the East River. The prospectus offered for sale "a limited quantity of the Treasury Stock." John had entered the world of Wall Street and he was working in the "Kingdom of Tammany Hall,&quot. In other words, John was a Mid Western novice working in an environment of high rollers and urban political corruption.
General Sherman Joined the Company, Marketed the Tube to Wall Street. As news of the project began to spread, the group was able to secure two more very famous and important investors: General W. T. Sherman, retired Civil War hero; and Lieutenant (at that time) Zalinski, the already famous inventor of the dynamic pneumatic gun. Zalinski also served as the Company's official engineer. General Sherman was assigned the task of speaking to the Wall Street millionaires. When they heard that the famous Civil War general intended to speak to them concerning a major project he was backing, virtually every member arrived to hear the man speak. General Sherman had only recently moved to New York, and the Wall Street crowd was eager to hear from a man who had become a legend in his own time. Before the assembled crowd, Sherman said, "I think I have a right to speak on engineering topics, for I graduated from West Point as an engineer, and I graduated at the top of my class." General Sherman was 70 years old when he made his speech to Wall Street. Within a year, Sherman was dead.
Articles in the London Times and Scientific American. News of the Pierce pneumatic railway reached London where the idea was received with great enthusiasm and interest. In his papers, John bemoans the fact that London appeared to take his ideas more earnestly than New York. John writes that the London Times noted that Scientific American gave credit to the Pierce Pneumatic System for a thousand miles an hour and that competent engineers stood sponsors for the practicality of the invention which was a marked improvement over every pneumatic transit plan of the past.
Lectured at Famous Cooper Union Hall. John used his skill with words and people to market his project to large audiences at New York's famous Cooper Union hall. In addition, he spoke of the project at countless smaller halls, many associated with neighborhood churches. He entertained the audiences by telling them amazing stories from his Wild West background, stories that were true, in part, but stories that would help support his mission to secure the people's investment in his invention. One true story he told during these lectures was about the exact moment the idea came to him to invent the pneumatic railway system. He said that he had the misfortune to be inside the Loney's Hotel in Stanton, Nebraska when it "turned turtle" and collapsed under the pressure of a tornado. At that moment he realized that there was great power to be had by harnessing the power of a cyclone.
Supported by the Stevens Institute. The Stevens Institute, a noted school of engineering, aided in the plans and one or more of its engineers participated in various speaking engagements assisting in marketing the project.
Assisted by General John Thayer, U.S. Senator. General John M. Thayer, a United States Senator, gave his assistance to the Project by publishing a letter in which he said, "Colonel John H. Pierce has certainly been a most useful citizen to our State. He is an honorable, upright man, and has rendered great, and valuable services in developing our resources."
Buffalo Bill Lent a Hand. John knew "Buffalo Bill," the honorable William F. Cody, from his Wild West days, and also as a journalist working out of Omaha, Nebraska where Buffalo Bill held his very first "Wild West Show." In later years, John used to brag that he once bested Buffalo Bill at a shooting match. Whether that was true or not, there is no doubt that the two knew each other well and were good friends. At the time that John's pneumatic passenger railway idea was being covered in the New York, London and Paris press, Buffalo Bill was abroad, bringing his Wild West Shows to England and France. When Buffalo Bill read about his old friend's amazing project, he sent a cable to John in New York saying:
"A world beater....It is in the Paris and London newspapers....I send you an extract from The Times....I will help you on this side of the pond."
Pneumatic Railways Project Collapsed; Underground Subway Proposal Wins. Despite the exciting stir the project caused among the people of New York, and despite and the powerful backing it had from celebrities like General Sherman and Buffalo Bill, the project ultimately collapsed. Although John ended up loosing his entire life's savings in the process, the project did have an important historical outcome: it pushed the competition in the direction of an underground subway, and did this perhaps sooner than it might otherwise have occurred.
Here, in his own words in his autobiographical poem, A Ranger's Biography, John described this period in his life when he tried to market his grand invention to New York, but ultimately failed, and lost his fortune in the process:
And next the Kingdom of Tammany Hall
With the tigers, bulls and bears,
Has stolen my stock, my bullion all
And left me a load of cares.
John Reinvented Himself as an Orator and Entertainer. After his pneumatic railway invention collapsed, leaving him broke, depressed, and friendless, John needed some other way to quickly make money to support himself. Trying to sell his skill at journalism in the highly competitive, big city environment of New York would have been too difficult, particularly if he wanted to maintain a handsom lifestyle. Instead, John came up with another new idea: he became an orator and entertainer. One thing John had learned from lecturing about his invention to crowds at the famous Cooper Union Hall, and to other large audiences in halls and churches throughout the New York area, was the peopled loved to hear him speak! Audiences responded enthusiastically to his magnetic personality and amazing stories. John knew about the success that his colleagues Captain Jack Crawford and Buffalo Bill were having marketing their shows to crowds all over the country. It occurred to John that he, too, had bigger-than-life stories that he could tell to amuse crowds and make people happily part with their money for a modest entrance fee. So, the inventor turned away from inventing and became an entertainer.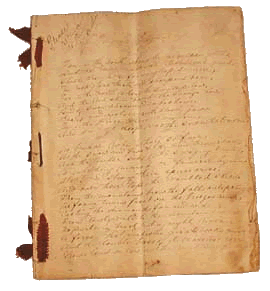 The Indian Monologues. John was an enormous success as an entertainer! To insure the entertainment value of his lectures, he gathered together a number of stage props: a full, western buckskin outfit; his Civil War uniform; an impressive, authentic-looking, handwritten manuscript of his autobiographical poem, A Ranger's Biography, and probably much more. He called his lectures, The Indian Monologues. These lectures dealt with all aspects of his life including his service in the Civil War, his experience living in and reporting on the Black Hills uprisings, his friendship with Buffalo Bill and Captain Jack Crawford, his experiences growing up on the rugged frontier of Canada with Indian children as his only companions, etc. There was much to tell, and out of this outline of a life, John found he could easily exaggerate and weave tall tales much to his audience's great delight. He worked on the emotions of his audience, calling up patriotism, humor, terror, and love. He thrilled them with stories of experiences they could only imagine. He awed them with knowledge about science and technology.
New York Theater Critics Praised him. New York theater critics gave him rave reviews. The New York Sun gave his Indian Monologues its highest rating, "Excellent." The New York World said that Mr. Pierce was "a man of power, and full of fire... he moved the hearers again and again." Other reviewers noted that John used "beautiful and flowery language," and "graceful gestures;" that he his lectures demonstrated "deep and forceful thought;" and made a "masterful production." His audience was quoted as calling his lecture "a masterpiece," and exclaiming how all had been "delighted and pleased" by this "most gifted and learned man." John was overjoyed with all the fine press he was getting. It feed his strong ego. He loved how the audience applauded his performances. For John, being an entertainer was far better than any other profession he had undertaken in the past. It suited his personality completely! But being an entertainer also meant that he could not spend too much time in any one place. He needed to travel. After exhausting the theaters, churches and halls in and around the New York area and surround states, John moved back to the Mid West.
Click Part 5 here, or below, to continue this biography.