John Harwood Pierce
Biography: Part 1 1848 to 1860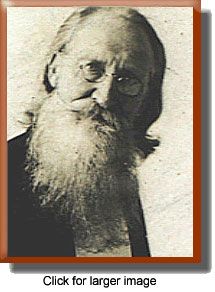 Born in Quebec. John Harwood Pierce was born February 29, 1848 in Waltham, Province of Quebec, Canada. He died in 1925 at the age of 76 in Los Angeles, California. His life mirrors the remarkable changes that took place in American society during this fascinating period in history.
Electric lights, transcontinental railroad systems, telephones, automobiles, airplains, motion-pictures--all these occurred during his lifetime. He played an active role in the taming of the Wild West and the emergence of an industrial society.
John Harwood Pierce's America was a country in a constant state of upheaval, evolution, and change. His life mirrors that vitality and recklessness. During his long life, John Harwood Pierce led many separate lives:
the isolated life of a pioneer on the rugged Canadian frontier;
the hand-to-mouth existence of a migratory farm laborer across the prairies of Illinois;
a Civil War soldier;
a teacher of freed slaves in the southern states;
a ranch hand on the wild western frontiers of Nebraska and South Dakota;
an Indian scout fighting against the Sioux Indians in the Black Hills;
a journalist participating in, and writing about, some of the momentous historical and cultural events of this period;
a literary publisher;
an inventor;
a minister;
and from time-to-time, particularly during his autumn years, when other avenues of earning a living were closing to him, he made money as a lecturer and showman.
But the one unchanging role he maintained throughout his life was that of a poet. In his own words, toward the end of his autobiographical poem, A Ranger's Biography,John described his charmed and mutifaceted life as...
...like my rhyme,
Rude, broken, changing, wild.
Heritage. John Harwood Pierce was born to prime Colonial New England stock and educated at home by parents who traced their heritage back to Captain Michael Pierce (b. 1615). This first-generation American immigrated in the early 1640s from Higham, Kent, England to Scituate, in what later became Massachusetts. Captain Michael Pierce was the brother of the famous Colonial sea captain, William Pierce, who helped settle Plymouth Colony. Today, in Scituate, there is a Captain Michael Pierce Monument and a Captain Pierce Road.
Lineage. According to Fredrick Clifton Pierce, author of Pierce Genealogy Being the Record of the Posterity of Capt. Michael, John and Capt. William Pierce (Albany, NY: Joel Munsell's Sons, 1889), as well as John's own brief genealogy (see references below), John Harwood Pierce descends from Captain Michael Pierce as follows:
NOTE: The eight detailed genealogies linked below, as well as the current biography of John Harwood Pierce, are in a constant state of research and change. Corrections and new additions are being made to these documents on a frequent basis as new information is uncovered, or former information is proved false. Most of the information in the genealogies is based on research originally done by Fredrick Clifton Pierce and published in his Pierce Genealogy, cited above. The author of these current documents, Barbara Sharon Case (John Harwood Pierce's granddaughter), is attempting to update that reserach, and add to it with further research on her own. The biography of John Harwood Pierce is derived from a detailed study and analysis of primary source records from his own personal archives; it is also supplemented by extensive library research. This genealogical and biographical research process is ongoing and will most likely extend well into the first decade of the 21st century. Until that research process is completed, all these documents should be considered DRAFTS. You can contact the author, Barbara Case, at: scrubjay@adelphia.net
Captain Michael Pierce, b. 1615 (m. Persis Eames)
Captain Benjamin Pierce, b. 1646 (m. Martha Adams)
Benjamin Pierce, b. 1683 (m. Mary Cowan)
Benjamin Pierce, b. 1721 (m. Charity Howard)
Deacon Benjamin Pierce, b. 1746 (m. Priscilla Merritt Wade)
Benjamin Pierce, b. 1777 (m. Deborah James)
John James Pierce, b. 1801 (m. Fanny Harwood)
John James Pierce, Jr., b. 182- (m. Mary Almira)
John Harwood Pierce, b. 1848
When John was in his seventies and living in Los Angeles, he wrote a brief genealogy of his family line as background material for a local newspaper (either the "Santa Monica Outlook" or the "Santa Monica Evening Outlook") which ran a story about John and his colorful family history.
The first six generations of this genealogy merely paraphrase information found in the Fredrick Clifton Pierce genealogy. But the document gives completely new information about the 7th and 8th generations, John's grandparents and parents, and therefore the verbatim text of these two generations is attached to this biography. It provides a treasure of names leading to further genealogical research. It also raises several confusing contradictions. In this document, John tells about his grandparents and parents, and gives detailed information on living and recently deceased relatives.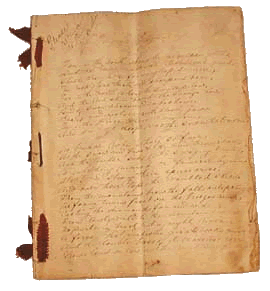 Autobiographical Poem. In 1890, when John was 42 years old, and living in New York, he wrote an autobiography in the form of an epic poem. From the tone of the poem, and its dedication, it appears that John may have been suffering from a major clinical depression at the time. In the months before the poem was written, John lost his entire life's savings in a Wall Street investment prospectus.
The poem is a handwritten manuscript entitled, A Ranger's Biography. The poem is long, being a full 269 lines in length, and it is written on 12 sheets of heavy paper. The sheets are roughly sewn together with red ribbon and fine brown silk twine, forming a booklet. Diagonally, across the top left corner in the author's handwriting are the words: "Please return to the author." The full transcription of the text of this poem is linked to this biography. Click on the image of the manuscript here to see a larger, readable image of the manuscript.
The original manuscript was constructed in such a rugged fashion that it seems highly likely it was used as a stage prop to impress audiences during lecture engagements.
Parents and Early Childhood. John's father, John James Pierce, was born in Hillsboro, New Hampshire but later moved to Waltham, Pontiac County, Province of Quebec, Canada with his wife Mary Almira. John's father was a Methodist missionary. In moving to Waltham, it was his plan to convert the Ottawa Indians and to preach the Word of God among a sparse population of pioneer fur trappers and loggers.
John's parents had three children: Clarissa Matilda, John Harwood, and Louis. Louis drowned at an early age in the Black River, which ran near their house. John writes about this early time in these words:
Every river, pool and lake in that region has yielded its fish in abundance to my lure. Every den and swale, every cliff and crag, were known to me; and the bear, the deer, the mink, the beaver, the fox, the wolf, and the panther or mountain lion, were the victims we gloried in deluding to their death. It was war, and we would have gone down in the fray if they had had the better skill. Often, we were near to death with the powers of the wilds proving stronger than we, but God's goodness remembers the sparrows. Black River on which the "Pierce Place" is situated, is a deep, dark, swift, dangerous stream. It buried my brother Louis.
On Sunday, August 26, 1917, the Oakland Tribune, a northern Californian newspaper, published a feature interview with John Harwood Pierce. At the time, he was 69 years old. In that interview, he is quoted as saying this about his childhood home in Waltham:
I was born within the spray of the Black River Falls --the greatest falls so far as I know --in all of Canada. When the wind was fair, the spray would blow in our yard. It was very interesting there when the ice would form in six-foot blocks and come tumbling down 200 feet. You can imagine the roar. I was used to thunderous sounds long before I ever went to war. When the ice would pack so that it would break all the chains of the boom above the logs and frozen blocks would crash down with a tremendous detonation. It was a wild sight.

When I was a boy, my friends were Indian children. My sports were catching fish with them and spearing our spoil, trapping, hunting. Why, I thought nothing of going out and getting a whole string of fish. Hunting was one of our principal joys. Otter--why, their furs are worth a king's ransom today. Mink--all those animals were common when I was a boy. Bears--we used to kill bears, too. Big fellows. Then we had other delights. There were hundreds of maple trees that we would sap in the spring and get hundreds of pounds of maple sugar. Think of that, if you have a sweet tooth! It was a frontier jamboree when they sugared off.

You know, you can't wear shoes in winter in that country. Oh no! Too cold. You wear buckskin. Now if the weather was very severe, we would wet the moccasins with water. That would close the pores and hold the heat in. Funny that ice will keep in heat--but it does.
The photograph above does not show the Waltham waterfall on the Black River. Unfortunately, that mighty waterfall is gone forever; the hydroelectric power station and dam you see here at the left stands there now. The waterfall above is of the Coulonge Chute, which pours into the Ottawa River a few miles further downstream. The Coulonge has a geology and environment very similar to what the Black River must have looked like prior to the building of the dam. Historical records show the Black River waterfall to have been some 25 feet shorter; also, it did not have a narrow "chute" at the end. Today, the Coulonge Chutes are considered to be one of Canada's national treasures.
In his autobiographical poem, A Ranger's Biography, John writes about his early home on the Black River in Waltham, in almost mythic proportions.
Far in the North where the glaciers glide,
And the bark canoe with its skillful guide,
Shoots through the foaming rapids where,
The rocks are thick and sharp and bare.
Far in the North where the sun dips low,
And the red skin bends the savage bow,
Land of snowshoes and cabashaws,
Bears and wolves with bloody jaws,
This is the place where I was born
And six foot deep was the snow that morn.



No bridal robe is half so fair,
As the snow and frost the pine trees wear,
And the tender songs of the swaying limbs,
Is wedding march or funeral hymn.
Stately and strong their spires arise,
And over their tops the vaulted skies.
From the mountains' brow the falls out spring
The foam turns frost on the breezes wing,
Casting the diamonds far and wide,
From the lowly vale to the mountain side,
No purling brook but a mighty river,
A force that makes the great rocks quiver
And the double base of the ceaseless roar
Grows loud or low as the wind sweeps o'er.



The grottos and caves, the sculptured halls,
Beneath and back of the grand old falls,
Nature's work shop, wonders home,
Every niche from floor to dome,
Is filled with the gems and curious arts,
That are worked without hands, or eyes or hearts.

An old brown house, and numerous fields,
The orchard garden and thicket yields
Fruits and flowers and singing birds,
While mother's and sister's loving words
Awakes the music of heart and soul,
Sweeter than all the notes that roll
From organ's tones though rich and grand,
When the keys are touched with the master's hand
And mother's mother I see her face,
Bright with love and sweet with grace.
The brow was seamed and the eyes were dim,
But God loved her and she loved Him.
Leaves Home at 11 and Moves to the United States. When John was 11 years old, he moved to the United States. [This fact is verified on a 1920 census document on which John indicates that he emigrated to the U.S. from Canada in 1859. This same document shows that John became a naturalized U.S. citizen in 1878.]
In his autobiographical poem, A Ranger's Biography, John writes about his leaving home at the age of 11, with these haunting lines.
Wild were the boys in that backwoods home,
And the girls were wild as the deer that roam
Nature was strong in their bounding veins,
Colts that never were broke to reins
And so it came that one fine day.
I picked up my bundle and walked away,
I was less than twelve when I left my home,
And never since then have I ceased to roam.
Youth Wandering Alone. In the three years that followed, John appears to have wandered around Illinois, earning a meager living harvesting crops. He writes about having to lie about his age, and fearing that he might die if anyone found out how young he really was at the time.
The grand prairie of Illinois
I trod alone,
A careless, busy, laughing boy.
Yet oft a groan
Would come unbidden to my lips
For poor, so poor
Was I, that all the finger tips,
Worn out with toil
Would tinge the yellow ears of corn,
With my warm blood.
Or when the harvest sheaves were bound,
In stations long,
I tottered o'er the hot and dusty ground,
Thinking a wrong,
If once the old reaper juggernaut
Should come with roar
To find me gasping "Yes, I'm caught."
A man no more,
Only a little boy, the thought,
Still nerved my arm,
And though I lacked the years, I wrought
Full hand upon the farm.
In 1915, when John was 66, his newphew Walter Smith (Clarissa Matilda Pierce Smith's son, then living as a Methodist minister in Monroe, Michigan) wrote a letter to his uncle. In this letter, he speaks very carefully about John's early days, as if there were some family secret which could not be revealed. Walter's letter reads in part:
My Dear Uncle John;

I thank you for your letter...

I wish you would tell me of the friends of your boyhood. Please give me the addresses of that Member of the Canadian Parliament and his name, also that of the Nephews and their addresses [by nephews, Walter must refer to the children of John's Uncle Harwood, and Aunt Julia C. Pierce Bulmer, who also settled in Canada, near Waltham]. If I ever happen up that way in my travels, I would love to have a chat with them. I am more mature and discreet than you may imagine Uncle, and I would not get my neck, or anybody elses, in a noose if I were to visit around those old coots and haunts... I would try to keep out of trouble... You must realize how dear all of that old ground would be to me since it was the scene of my mother's early girlhood.... I would dearly love to talk over all of those things with her and have her tell me of those early girlhood days up in the northern Canadian hills. Of the struggles, the hopes and fears, the vicissitudes of those early days... You must be more or less familiar with the places up in Renfrew [County]that were once the haunts of my mother's early days. Every inch of it would be sacred ground to me if you could give me names and locations... I crave this information just for my own use and satisfaction. Thanking you for your letter, and with love to you and yours, I am

Affectionately your Nephew
Walter
Both the poem and the letter from Walter seem to indicate that there was some secret reason surrounding John's leaving home when he was only 11 years old. What could this secret be? Unfortunately, it is a mystery which appears to have no solution, or hint where a solution might be found. Perhaps a safe conjecture is that John's natural wild spirit could not abide the strict discipline of his minister father.
John's Parents Moved to Ionia, Nebraska. John writes in his family genealogy that first, his father and uncle Harwood went to United States having "been called [by the Church and God] to undertake a mission to preach abolition of slavery in the Southern States." But, they met "with revelry and severe violence at the hands of the Southern mobs and returned north." At Davenport, Iowa, John's father met Judge Loren T. Hill and, at his suggestion, undertook a journey to Nebraska to buy land. He purchased the old town site of Ionia for Judge Hill and sent word for his wife and daughter in Canada "to join him in the west."
John's mother and sister undertook the long and dangerous journey to Ionia, Nebraska from the Pierce place on the banks of the Black River in Waltham, Province of Quebec, Canada. John writes about himself, his mother and sister, as follows:
John H[arwood Pierce], his son, was already in the States. His wife [Mary Almira] and daughter, Clarissa Matilda [Pierce] undertook the long and dangerous journey.They travelled the first lap of the trip by water, and were shipwrecked, barely escaping in their night clothes in an open boat. The journey accross Illinois and Iowa was accomplished in rude ox carts, devoid of springs, and with high wooden wheels hewed out of solid timbers. The country was new and the roads were rough. Very often, stretches of corduroy road would extend for miles. [John's sister] Clarissa Matilda walked the entire distance accross the State of Iowa, preferring to walk rather than ride in the ox carts. The caravan would make, on average, about ten miles a day. But the journey was made, and a home was built on the banks of the Missouri River about three or four miles above the old town site of Ionia. This farm has long since been swept into the treacherous river. John James Pierce [John's father] is buried on the hill overlooking the town of Vermillion, S.D.
Click Part 2 here, or below, to continue this biography.