September 30 - From Solvang to Ventura
DESCRIPTION: Mileage: 81 miles. Terrain: Moderately rolling. Highlights: Santa Barbara, palm trees, and surfing beaches on our way to the Clarion on the ocean in Ventura.
OVERNIGHT: Clarion, Ventura (805.643.6000)
TRIP DIARY/PHOTOS:
The day began with fog in Solvang. We anticipated a hot day to come, so most riders just tolerated the cold morning waiting for the sun to come out.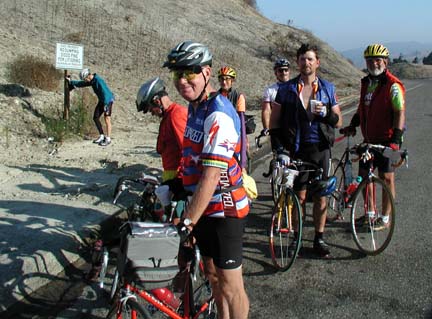 Above: After a nine-mile climb on the shoulder of Highway 101 through Gaviota Pass, we reached the summit, which was above the fog. Patty was waiting with hot coffee and goodies. In the foreground, from left to right: Bob, Harold, Barbara, Bob, Mike, and John. Leonard is leaning against the post, taking off his leg warmers. The next 20 miles had us traveling the shoulder of U.S. 101 with the ocean on our right. It was significantly warmer near the ocean than in Solvang, but we lost our sunshine to a high overcast.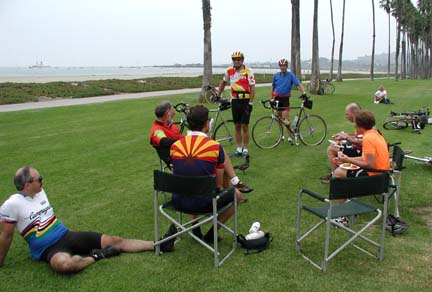 Above: We had to cycle 52 miles to our lunch stop on the oceanfront in Santa Barbara just south of the Sterns Wharf. Gary and Steve (standing with their bikes), who rode the Northern California segment of the ride last week, dropped by to visit with us during lunch. They live in Thousand Oaks and a trip to Santa Barbara and back is a frequent training ride for them. Seated at lunch are John, Mike, Barbara, and Harold. Bob is on the grass. Why? Well..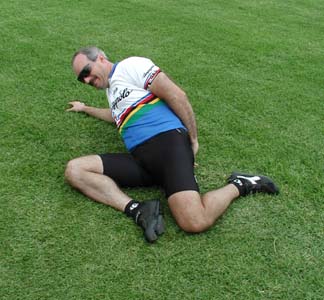 Above: ...to run through his stretching exercises. "Bob, are you sure that helps your digestion?"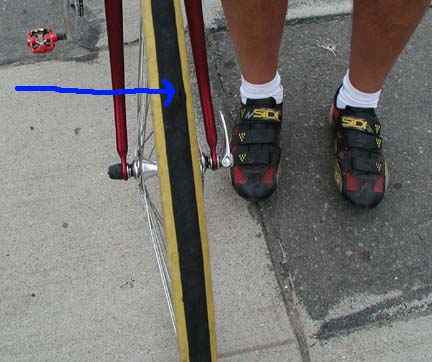 Above: At lunch, John examined the two adjacent holes that had been developing in his front tire tread and decided to risk riding on it till the end of the day. He barely made it to the motel some 31 miles ahead before the two holes became one (see arrow). Leonard, John, Mike, and Bob rode at 23 m.p.h. in the afternoon, aided by mild tailwinds and a well-managed paceline.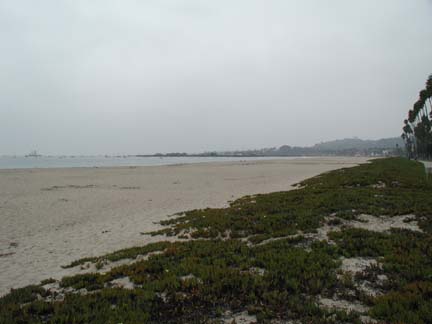 Above: After lunch, we rode along stretches of beach, and then through elegant coastal mansions near the famed Santa Barbara Biltmore Hotel. We biked through other famous coastal communities, including Montecito and Hope Ranch.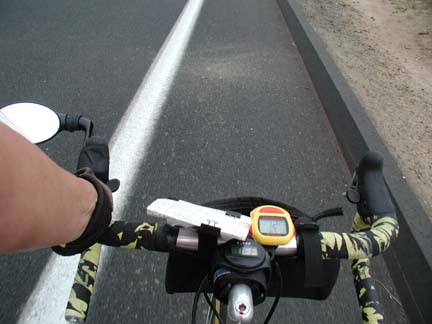 Above: Barbara took this handlebar view of the trip from the bike lane just south of Carpenteria. From left to right: rear view mirror (important in touring to see approaching traffic), tour directions (clipped to the handlebar bag), handlebar bag (filled with handkerchief, sunscreen, lip protection, etc.), heart rate monitor, cyclometer (with instantaneous, average, and trip maximum speeds; trip elapsed time; trip and total odometers; and clock).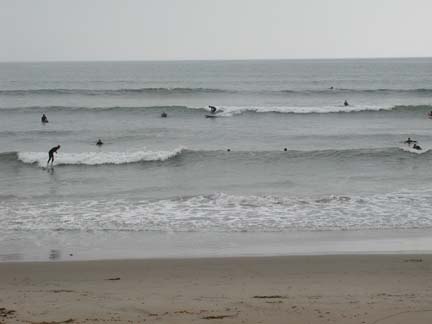 Above: South of Carpenteria, the water was crowded with surfers.
RIDE STATISTICS: Today we rode 81 miles with a total elevation gain of 2280 feet. Overall, it was an easy and fun day. We had mild headwinds in the morning and tailwinds in the afternoon.