September 29 - From Pismo Beach to Solvang
DESCRIPTION: Mileage: 74 miles. Terrain: Moderately rolling into Santa Ynez Valley followed by short, steep hills into Solvang for the final 10 miles. Highlights: Wineries dot Foxen Canyon Road on the way to King Frederik Inn in the famous Danish village of Solvang.
OVERNIGHT: King Frederik Inn, Solvang (805.688.5515)
TRIP DIARY/PHOTOS:
Today we were all prepared for hot weather, and that is exactly what we got. Leaving Pismo Beach in the morning, it was mild and cool, but soon we turned inland, away from the cooling Pacific. Most of the first 20 miles took us through gigantic industrial farms with crops as far as the eye could see. Eventually, we moved back into the familiar golden hills dotted with oaks.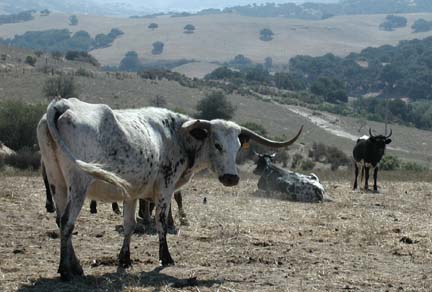 Above: We spotted another small herd of longhorn cattle.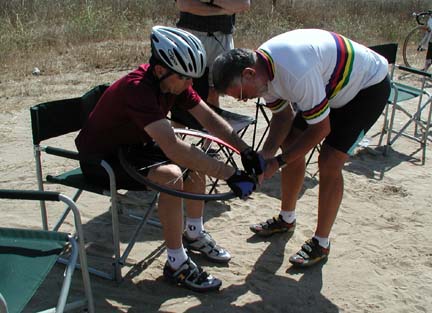 Above: The roads were very rough and punishing to our bodies. Constant vibrations caused by rough roads wreak havoc on the saddle area, hands, and neck of most bikers. Leonard realized that he had a flat tire after lunch and John helped him push the bead of the new tire over the rim.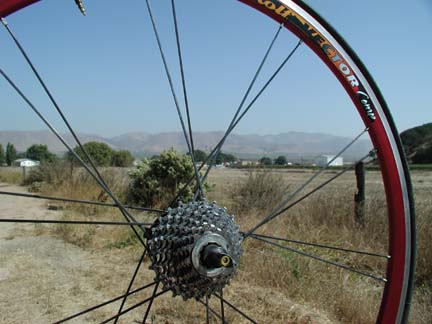 Above: Leonard held his newly mounted tire up briefly for inspection before mounting it on his bike.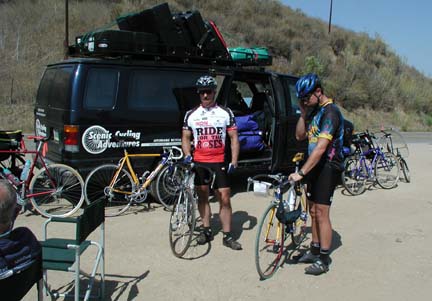 Above: Bob and Mike got ready to head out again after lunch.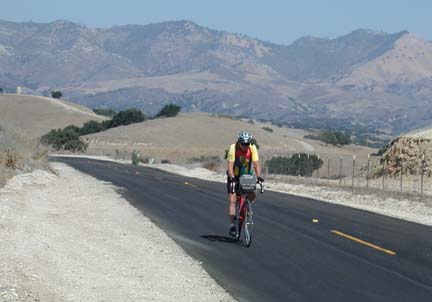 Above: There are two significant climbs in Foxen Canyon. The first is called "Heartbreak Hill" by local bikers and those who ride the Solvang Century. The second is called "The Wall" because you can see its intimidating steepness for a long time before you get to it. Here, Harold comes over the summit.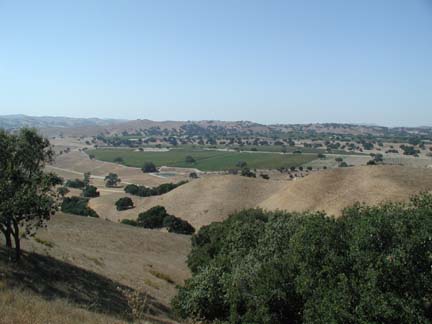 Above: The view of the Santa Ynez Valley from the summit.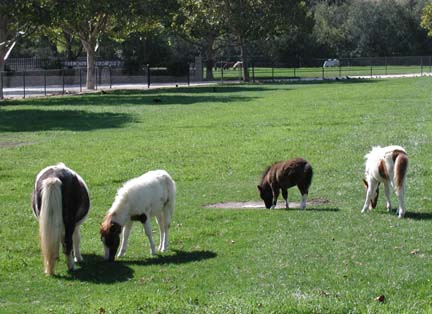 Above: As we neared Solvang, we saw lots of vineyards and horse farms. This one was raising miniature horses. The biggest horse in this picture stands only two-thirds the height of a bicycle, and the smallest one is about the size of a German Shepherd.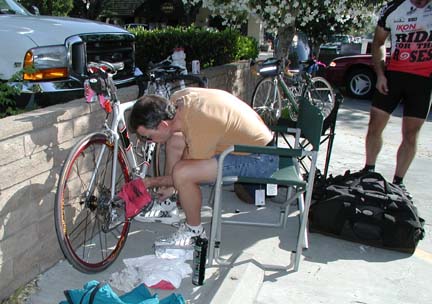 Above: When we got to the motel in Solvang, most riders realized that they needed to do some serious bike cleaning. The ride through farm country and Foxen Canyon had thrown a lot of grit into the chains. Here Leonard is wiping down the frame of his Trek carbon fiber bicycle.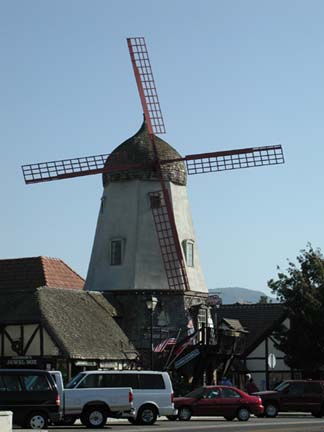 Above: Solvang is a miniature Denmark, but in a commercial, Disneyland way.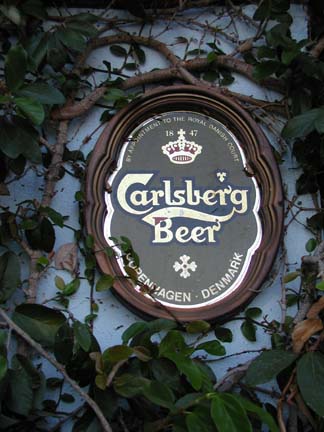 Above: The town is full of great eating places and beer gardens. Of course, Carlsberg is the beer of choice.
Above: Before dinner, Pete took some of us over to his home in Solvang to see his "toys." He has both N- and G-gauge model trains in elaborate settings. In the larger backyard setup, shown here, he has reproduced Los Olivos, one of the nearby villages; note the peloton riding on the main street. Another hobby is amateur radio: he has both classic tube-type and modern solid-state sets, and his roof bristles with antennas. Finally, he has a garage full of custom bikes--tandem and diamond frames, road and touring configurations.
RIDE STATISTICS: We rode 74 miles with a total elevation gain of 2,940 feet. Heat and rough roads were the main problems of the day. There is some good news to report for all those bikers reading this who are familiar with Foxen Canyon: sections of it are being repaved! There are many miles of pristine new pavement, and best of all, the pavement on the descent side of "The Wall" is all new. It made for a very sweet downhill run!