September 28 - From San Simeon to Pismo Beach
DESCRIPTION: Mileage: 51 miles. Terrain: Moderately rolling to Morro Bay State Park, short hills into San Luis Obispo, returning to moderately rolling to Pismo Beach. Highlights: Coastal towns of Cambria, Morro Bay, and Avila Beach. Oceanfront lodging at the Sand Castle Inn.
OVERNIGHT: Sandcastle, Pismo Beach (805.773.2422)
TRIP DIARY/PHOTOS:
Today was another perfect weather day. The ride was the easiest so far, with no significant hills. Depending on your riding style, it was either a day to cruise and enjoy the sights, or a day to take advantage of the tailwind at your back and long stretches of road to maximize your speed.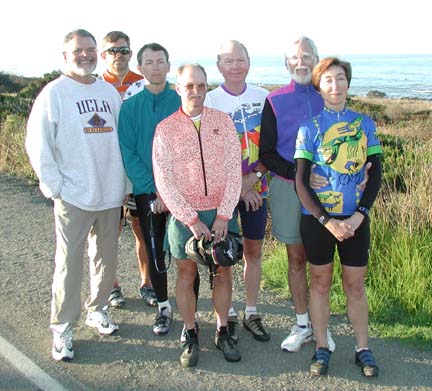 Above: Before we began this morning, Patty had us all line up for group photos. First she wanted photos of the seven doing the entire Canada-to-Mexico trip. From left to right: John, Brian, Leonard, Bob, Harold, Jim, and Barbara.
Above: Next, she wanted the hotshot trio doing most of the California 500 together: Rick, Mike, and Bob. She wanted to take pictures of the rest of the group, but found that most had already made an early start on the day's ride.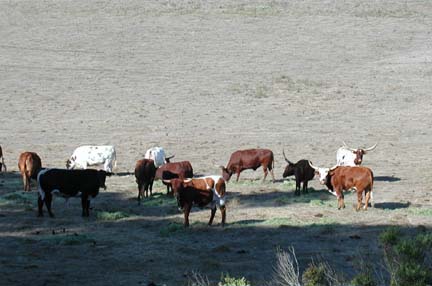 Above: For the first 20 miles or so, we hammered with the wind at our backs along the shoulder of Highway 101--eight miles of a gentle two-percent upgrade, followed by another eight miles of a two-percent downgrade. Along the way, Barbara couldn't resist stopping to take pictures of this grazing herd of Texas Longhorns.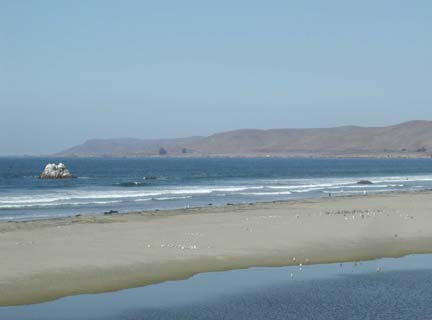 Above: After 20 miles of gorgeous, golden grasslands dotted with oak trees, we finally came out to the beach once again. Note that the beaches of central California have lost most of the rocky splendor of the northern Pacific coasts. South of the Bay Area, the coastline becomes increasingly less craggy.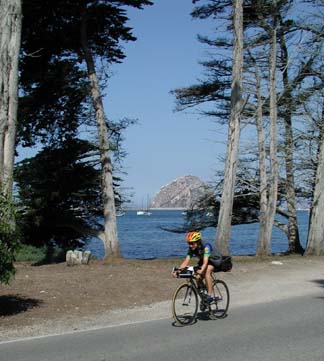 Above: Barbara does the final quarter-mile before our lunch stop at Morro Bay State Park. That's Morro Rock in the distance, the last major outcropping on the California coast.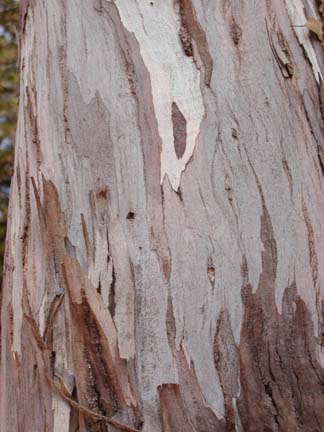 Above: Our picnic stop was in the middle of a eucalyptus grove. Eucalyptus trees, with their long, colorful trunks and loose red bark, dominate the landscape of Southern California.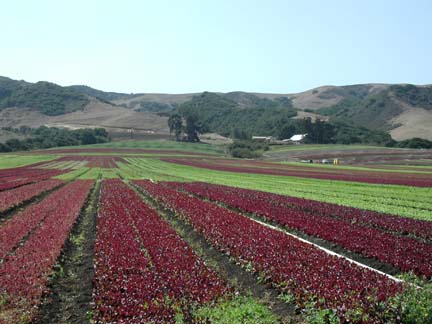 Above: After lunch, we passed briefly through the farmlands on the outskirts of San Luis Obispo. There were fields of red- and green-leaf lettuce.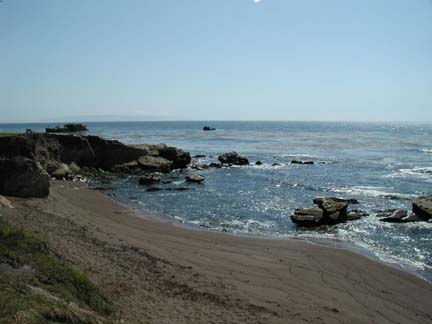 Above: Once again, we returned to the coastline, where we biked along residential streets. Sometimes it was the charming houses that grabbed our attention, and sometimes it was the sparkling beach views.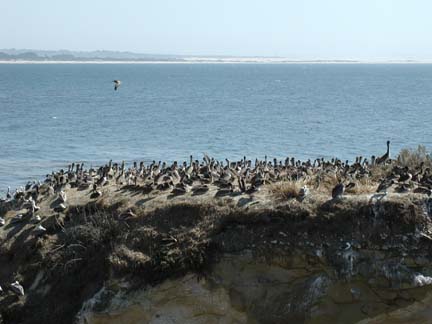 Above: Near our final destination in Pismo Beach, we come upon a series of islands only 20 feet or so from the beach. Each was heavily colonized by pelicans.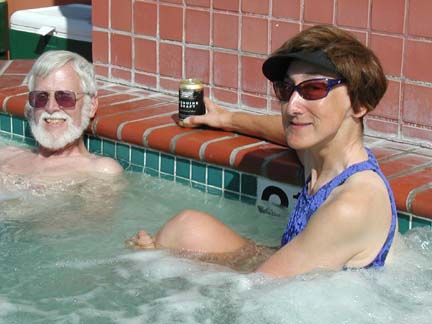 Above: When we got to our digs in Pismo Beach, we found that the motel had a well-situated spa with a commanding view of the pier and beach. Patty set up happy hour by the spa, and Barbara and Jim enjoyed a cool one in the hot water.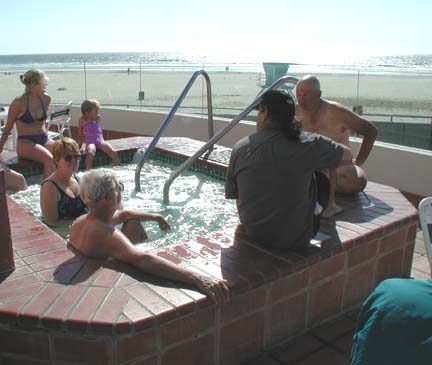 Above: Sandy and Allen joined Jim in the spa and Rick sat on the edge for a chat.
Above: This is the view from the spa! What a great day...now when are we going to dinner!
RIDE STATISTICS: We rode 51 miles with a total elevation gain of 1410 feet.
SPECIAL NOTE ABOUT JOHN:
When we started the California segment of the trip in Crescent City, John's wife Michele met him there and told him about a dream home she had toured on the way to Crescent City. It was in the tiny town of Carmichael, located some 25 miles from her brother's ranch. It was situated on 17 acres, with a five-star home built on it two years ago but never lived in due to a divorce. The land is bordered by the Scott River, and has its own bass pond and pastures. John and Michele talked it over, and even though John had never seen it except on the Internet, they agreed to bid on it. Michele did all the work while John continued to cycle the California coast. Their low opening bid was accepted, and terms and conditions were negotiated by phone. By the time John reached San Francisco, they had finalized the deal and Michele hurried off to Redondo Beach to put their current home on the market.
When John reaches Redondo Beach, he will turn around the next day and fly to Northern California, rent a car, and drive to his new home in Carmichael for his first look around.
John and Michele have always wanted to own a ranch out in the country where they could keep horses, have a chicken coop, and a small kitchen farm. The new house comes with a separate apartment over the garage so that any of John's five children and their families can feel very comfortable when they visit.
John can't stop grinning--is it because of the euphoric joy of cycling, or because he anticipates a whole new life and lifestyle just over the horizon? It's probably both. We have mixed feelings: happy that John and Michele have a dream home, and sad that we'll be seeing less of them.
P.S.: John does plan to purchase a beach condo either in Redondo Beach or San Luis Obisbo (SLO). He still wants to keep a foothold in the laid-back lifestyle and outstanding weather of the Southern California beach communities. After selling his fully modernized, genuine Craftsman Style home in Redondo Beach with a pool and ocean view, he'll have plenty of money to buy the new ranch home in Carmichael, a new condo in Redondo or SLO, and put aside a tidy sum for investments!