September 25 - From From Santa Cruz to Monterey
DESCRIPTION: Mileage: 46 miles. Terrain: Flat to moderately rolling. Highlights: Easiest day took us through farmland to Gilroy, the artichoke capital of the world. An early arrival in Monterey gave us plenty of time to explore the unique town, as well as Cannery Row, home of the Monterey Bay Aquarium.
OVERNIGHT: Monterey Bay Lodge, Monterey (408.372.8057)
TRIP DIARY/PHOTOS:
Today was another perfect riding day with bright sunshine and temperatures in the low 70s. It was a short day, with only 46 miles to bike. This allowed all of us a half-day to explore Monterey.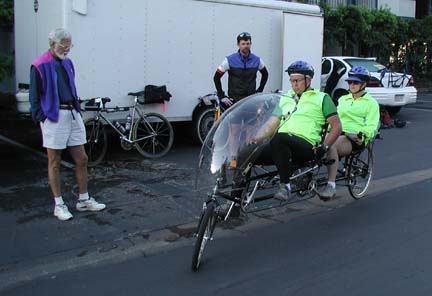 Above: After breakfast, Allen and Sandy took off in their recumbent tandem with Jim and Mike looking on. The tandem weighs 90 pounds and is 10 feet long!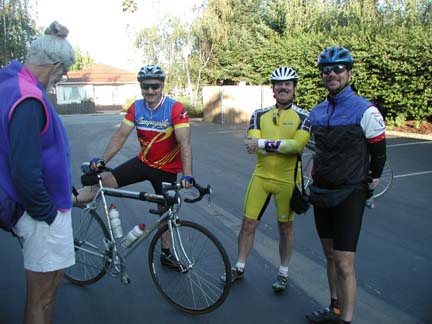 Above: "You're sure that prevents lactic acid buildup?" Bob did a leg stretch over his back wheel, which puzzled Jim. Bob said he learned it from Bicycling magazine. Rick and Mike saw Barbara with the camera and hammed it up with broad smiles.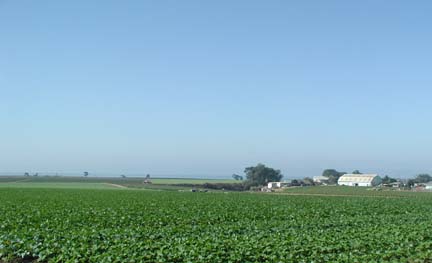 Above: We biked through farmland most of the morning. There were strawberry fields as far as the eye could see, right down to the ocean. We biked through the artichoke capital of the world and saw farm hands picking the crop. Barbara observed a bracero taking a break from picking to talk to someone on his cell phone; times are changing!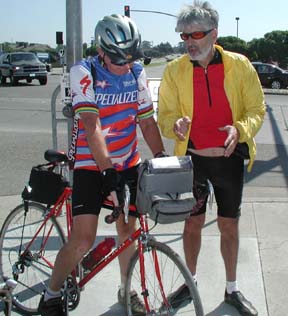 Above: As we neared Monterey, Paul, a local friend of Harold's, met us on the bike path north of the city. He offered to show us a more picturesque route to our hotel along a newly opened section of bikeway, and everyone took him up on it. Harold met Paul in Arizona, where they became biking buddies.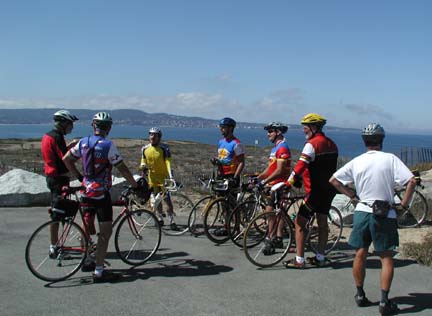 Above: Here the group paused at a particularly spectacular spot with a panoramic view of Monterey Bay. Paul was talking to the group about the sights along the bike path yet to come. Next to Paul was Harold. The bikers lined up to listen, left to right, are Rick, Mike, Bob, John, and Bob.
When we got to the motel, we found that Pete had fixed us an authentic burrito lunch with all the fixings, plus fresh fruit and cookies, of course. Since no one was biking that afternoon, beer was available and welcome, along with the usual sodas and juices.
Above: Most of us spent a couple of hours at the world-famous Monterey Bay Aquarium. The jellyfish were particularly spectacular...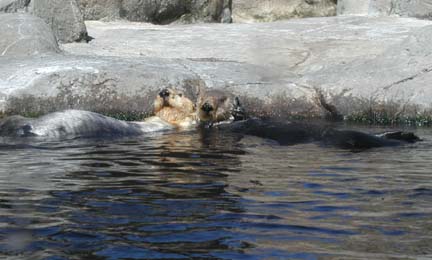 Above: ...and the sea otters were as cute as usual.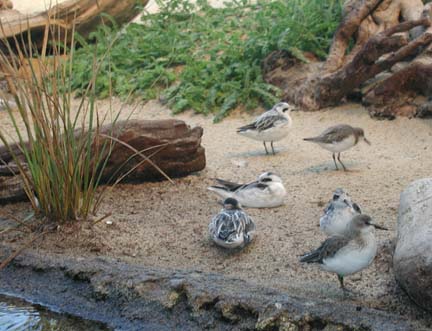 Above: The Aquarium has a walk-through aviary. We got close-up views of sandpipers and other shorebirds.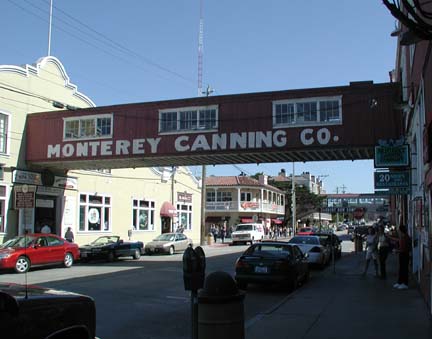 Above: After the Aquarium, most of us took in the sights of Cannery Row as we walked back to our motel.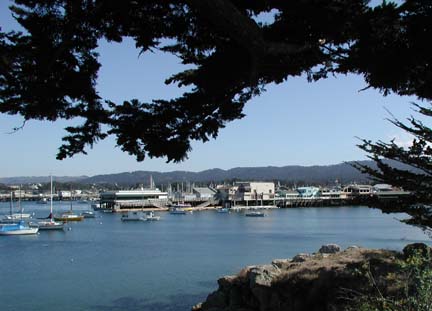 Above: The motel was located an easy 15-minute walk from the famous Fisherman's Wharf.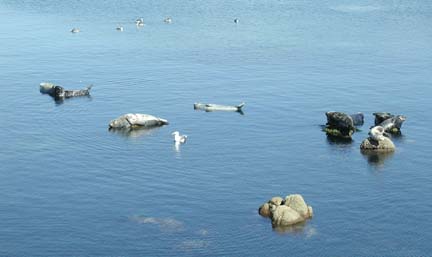 Above: In the still water near the Wharf, seals were sunning themselves on every available perch both above and below water level. Those that rested on rocks below water level looked like rocks themselves!
RIDE STATISTICS: Today was a short day, just 46 miles, and the altitude gain was a minimal 900 feet. It was a great recovery ride after yesterday's long, hard route from San Francisco to Santa Cruz.