September 24 - From Novato to Santa Cruz
DESCRIPTION: Mileage: 84 miles. Terrain: Short hills with a moderate climb to 600 feet. Highlights: From Novato, the skyline of San Francisco lies a short distance before us. We pedaled over the Golden Gate Bridge and biked past the gates of the Presidio. We continued past Golden Gate Park onto Highway 1, visiting the small coastal towns of Half Moon Bay, Moss Beach, and Davenport. We finished at the famous Boardwalk Park, three blocks from our hotel in Santa Cruz.
OVERNIGHT: Best Inn, Santa Cruz (408.458.9660)
TRIP DIARY/PHOTOS:
Today was a perfect riding day! The weather was fantastic, 95 percent full sunshine, mild temperatures in the low 70s, with strong tailwinds in the afternoon. The ride began with an unforgettable ride over the Golden Gate Bridge and ended 84 miles later in Santa Cruz.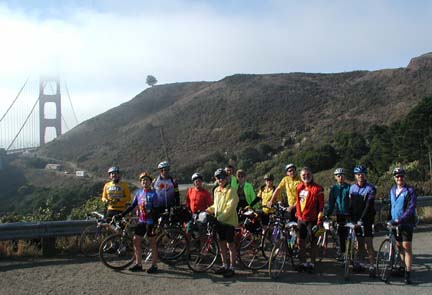 Above: The entire group posed for a photo just before starting out over the Golden Gate Bridge. From left to right: Rick, Barbara, Brian, Bob, Harold, Allen and Sandy, Cheri and Wes, John, Leonard, Mike, and Bob.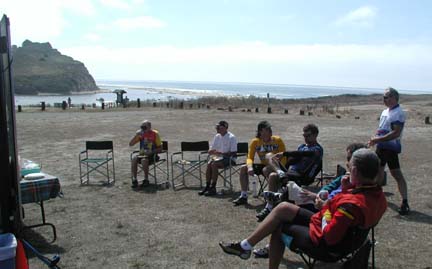 Above: After the Bridge, we rode along the scenic coast route through the Presidio, the very upscale Seacliff community, past the Golden Gate Park, Pacifica, and Daly City, before leaving San Francisco and continuing along the coast to our lunch spot at San Gregorio State Beach, some 42 miles south. Along the way we passed through Half Moon Bay and Moss Beach. Here, Harold, Bob, Rick, Mike, Leonard, Bob (standing), and John are enjoying their lunches.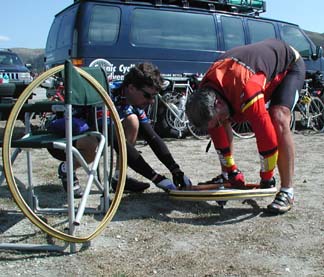 Above: After lunch, John discovered that he had a tread separation on his tire, and changed it; Mike helped.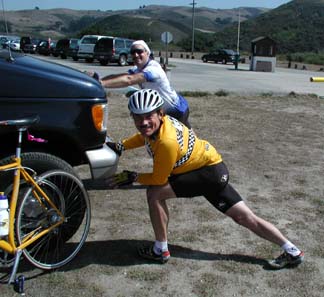 Above: Rick and Bob did stretching exercises before resuming their ride once after lunch. A couple of passing surfers asked if they needed help "pushing the van."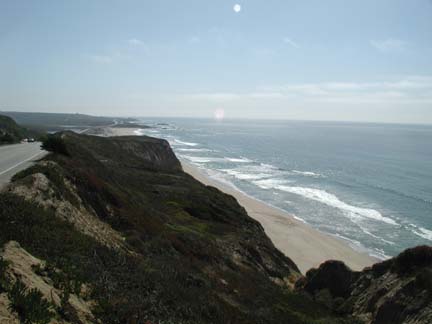 Above: After lunch, we were treated to a seemingly endless sequence of views just like this one.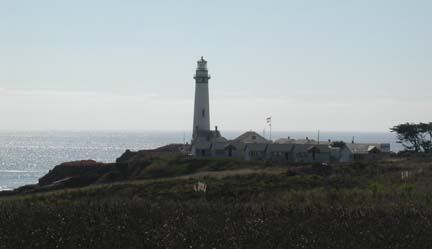 Above: We stopped to visit the Pigeon Point Lighthouse. After the visit, we discovered that a lovely tailwind had developed that lasted for the rest of the day. Heaven!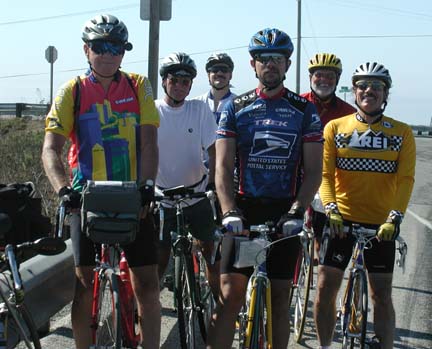 Above: Those leaving the lighthouse met others going in, so it was group photo time again. From left to right: Harold, Bob, Bob, Mike, John, and Rick.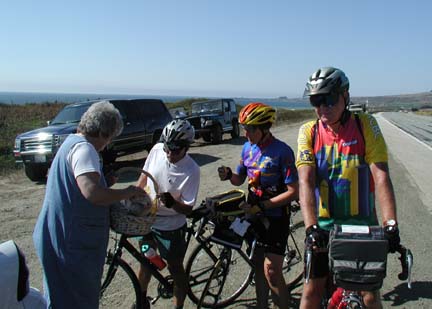 Above: Patty, our ever-ready sag wagon driver, was ready with water, goodies and wipes to clean up after applying more sunscreen. From left to right: Patty, Bob, Barbara, and Harold.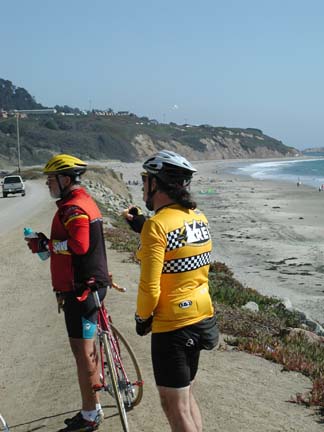 Above: John and Rick stopped at Patty's car for a brief rest and refueling. Parasialboarders are visible in the far distance (note the white sail above Rick's helmet, and the green one on the beach to the right of his head).
RIDE STATISTICS: At 84 miles long with 4050 feet of elevation gain, today was a difficult and long day. But all agreed it was an ideal riding day.