September 23 - Layover day in Novato
DESCRIPTION: Rest day. Barbara's brother, Herb, picked us up in Novato for a visit at his home in Muir Beach.
OVERNIGHT: Best Western Novato Oaks, Novato (415.883.4400)
TRIP DIARY/PHOTOS:
The "Six Musketeers" doing the full Canada-to-Mexico ride had a layover day today. Bob and Harold spent the day watching a series of football games. Brian cleaned his bike, did laundry, found a gym to work out, a bike shop to buy tires, and time to ride a 20-mile recovery ride. John and Leonard spent the day resting up for the big ride tomorrow.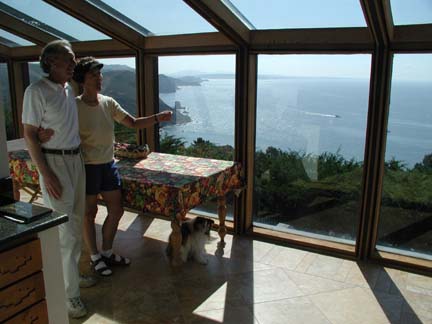 Above: Barbara and Jim spent the day visiting with Barbara's brother, Herb. Here they are in the breakfast room of Herb's home in Muir Beach with a million-dollar view of the Golden Gate (the bridge is just out of sight behind the headlands); the home was custom-built by Autodesk founder, John Walker. In the backgound is the coastline from the Presidio in San Francisco to Pacifica--that's the first 11 miles that we will bike tomorrow morning.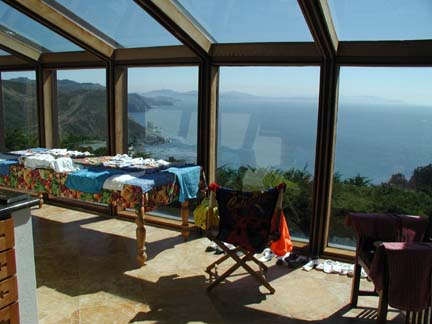 Above: Barbara and Jim had over a week of laundry to do at Herb's house, but soon discovered that the dryer vent needed some maintenance. Fortunately, it was a wonderful, clear, warm day and all the clothes dried just fine in the natural sunshine.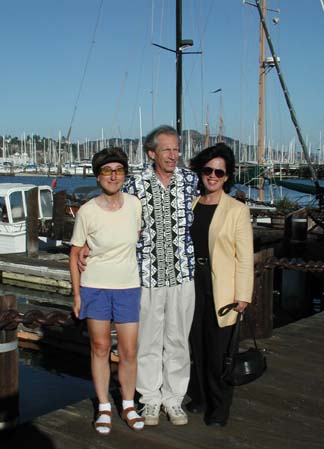 Above: Barbara and Jim finished the day by having dinner with Herb and wife Nancy (after she returned from the weekly air commute to her weekend psychology practice in San Diego). The restaurant was at the wharf in Sausalito.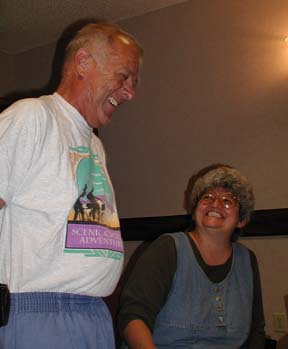 Above: In the evening, we had an orientation meeting for all those going on this leg of the tour. The Southern California segment will be led by Pete, with Patty driving the support wagon. It was wonderful to see Patty, known as Mom to all who have traveled with Scenic Cycling, once again.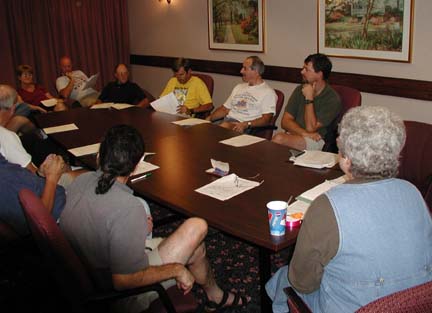 Above: We have a total of 13 riders doing this segment. Visible are Rick (ponytail, foreground), John (hands only), Harold, Sandy and Allen (who will be riding a 10-foot-long recumbent tandem), Bob, Brian, another Bob, Michael, and Patty.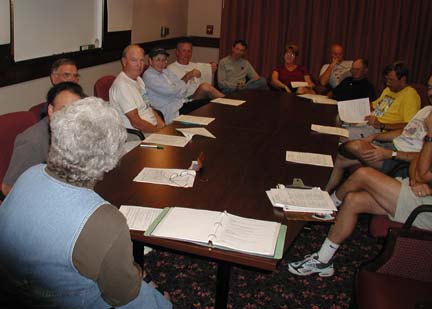 Above: From another angle, Patty, Rick (partially hidden), John (partially hidden), Harold, Sherry, Wes, Leonard, Sandy, Allen, Bob, Brian, Bob, and Michael.
RIDE STATISTICS: No riding today, except for Brian who just couldn't resist doing a 20-mile recovery ride!