September 22 - From Bodega Bay to Novato
DESCRIPTION: Mileage: 59 miles. Terrain: Coastal rollers with a hilly ascent. Highlights: Our last day took us along Point Reyes National Seashore and over the coastal range to Novato.
OVERNIGHT: Courtyard Marriott, Novato (415.883.8950)
TRIP DIARY/PHOTOS:
Today the group stayed together for the ride to lunch, then split for two separate destinations. Six riders, all of whom are ending their ride today, chose to ride all the way to, and accross, the Golden Gate Bridge. The other group, consisting mainly of those six who will ride the Golden Gate Bridge on Sunday at the beginning of the Southern California leg of the trip, plus all those other folk who'd already "Been there, done that" rode directly to the motor hotel in Novato.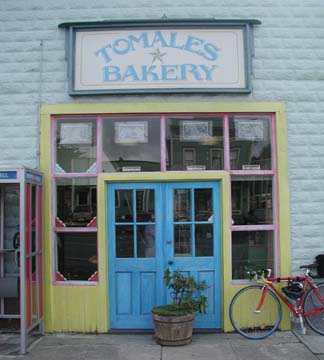 Above: We rode out of Bodega Bay under high overcast skies with mild temperatures--for bikers, another perfect weather day. We rode through rolling hills with roads following the natural terrain, so that there were plenty of short but challenging ups and downs. Our first stop was the Tomales Bakery; bikers all over Northern California know that that is a "must" stop. We were not disappointed!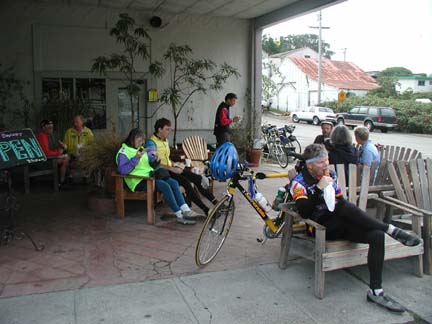 Above: The goodies were exactly what bikers need and the atmosphere was friendly and funky. From left to right in the back: Bob, Harold, and Ken. Sitting in the middle: Patty and Steve. There's George in the foreground; behind him, Gail held the rapt attention of two local riders who couldn't get enough of our stories.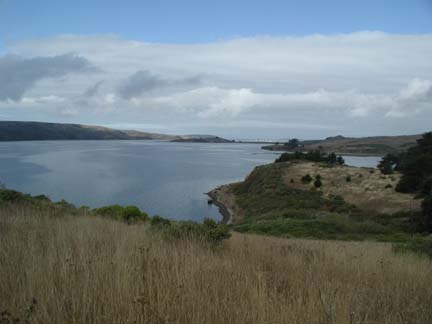 Above: After Tomales Bakery, we climbed more short hills and finally came out on our first overlook of Tomales Bay. We rode along the shores of the bay for almost 20 miles. Don't think the terrain was flat along the bay; no, it continued the familiar pattern of short, challenging ups and downs. We had lunch near Point Reyes Station at the entrance to Point Reyes National Seashore.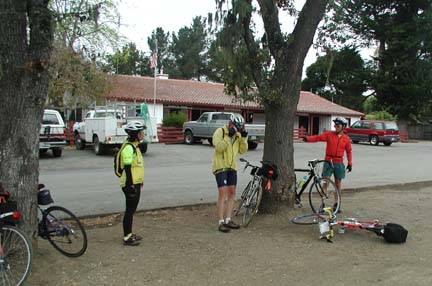 Above: After lunch Derick and Phyllis, who live in San Rafael near Novato, led groups of riders over a perfectly wonderful biking route: lots of gentle climbs, followed by sweet descents, with gorgeous scenery all around. Here, Phyllis and Bob look on as Harold adjusted his helmet after a brief rest stop.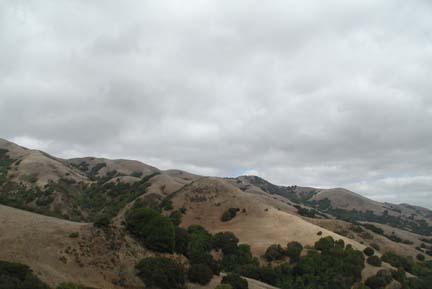 Above: Most of the terrain after lunch consisted of golden hills dotted with oak trees with lots of cattle and horses. We were surprised, however, to find ourselves descending into a lush creek valley with a substantial grove of California redwoods. Riding into it was awesome: one moment you were riding through golden grasslands, and the next you were in a redwood forest!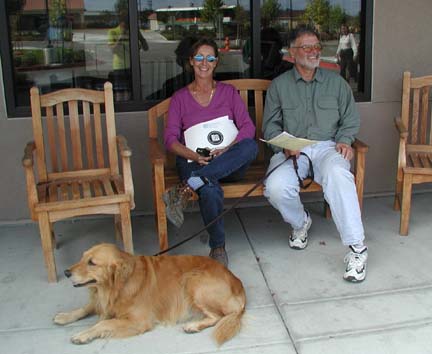 Above: When we got to our motel in Novato, John got a visit from his wife Michele, and dog Hannah. Although both were overjoyed to see him, it was the dog who made the loudest and longest fuss.
RIDE STATISTICS: Today's ride totaled 59 miles with a total elevation gain of 2510 feet. For thoses six riders who went to, and across, the Golden Gate Bridge, it was a 75-mile ride with a total elevation gain of over 4680 feet.
TOTAL NORTHERN CALIFORNIA RIDE STATISTICS: We rode 407 miles with a total elevation gain of 22,020.
TOTAL WASHINGTON, OREGON, AND NORTHERN CALIFORNIA RIDE STATISTICS: So far on our Canada-to-Mexico bike trip, Barbara, Bob, Brian, Harold, John, and Leonard have ridden 1,298 miles with a total elevation gain of 54,427 feet! All are healthy and hearty, and ready to begin the Southern California leg of the journey on Sunday.