September 21 - From Gualala to Bodega Bay
DESCRIPTION: Mileage: 49 miles. Terrain: Coastal rollers. Highlights: Continuing on this scenic stretch, we first pass through Fort Ross, a historic trading post built by the Russians, the community of Jenner, and over the Russian River. Bodega Bay, our home for the evening, was made famous by the Alfred Hitchcock movie The Birds.
OVERNIGHT: Bodega Coast Inn, Bodega Bay (707.875.2217)
TRIP DIARY/PHOTOS:
At breakfast, it looked like we would have a mild overcast day in the mid-60s, perfect biking conditions. But, shortly after taking off it began to mist, and then drizzle; eventually, it became a steady light rain, and many of us were caught off-guard without rain gear. By lunch it had cleared up and our picnic at Fort Ross was a time to dry out and enjoy a little mid-afternoon sunshine. The ride after lunch was full of challenging hills with steep vertical drops without guard rails and many hairpin turns.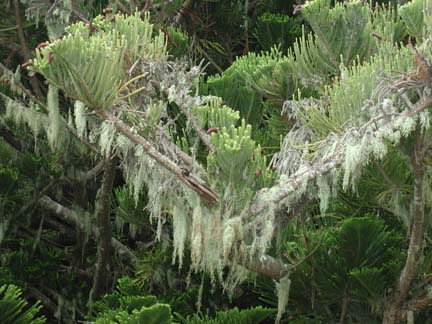 Above: It must rain a lot in the area just south of Gualala; moss like this was everywhere.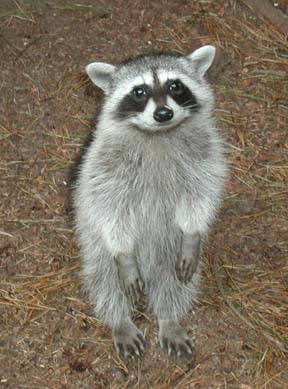 Above: We stopped at an inn and found a family of raccoons. This one was obviously hoping for a handout.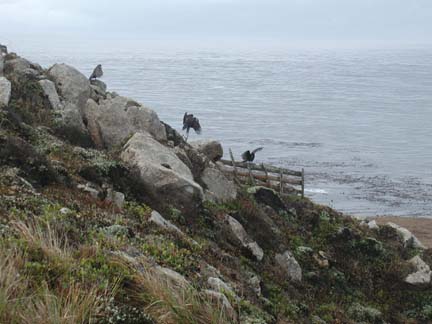 Above: As the rain stopped just before lunch, we caught a glimpse of these three turkey vultures drying their wings.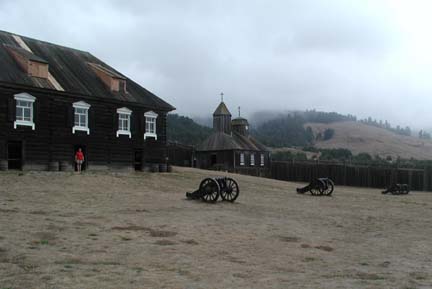 Above: After lunch, we took a walking tour around Fort Ross, established by Russian settlers in 1835. The Fort has been painstakingly restored by the California Park Service.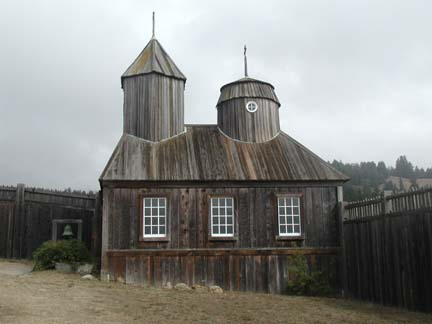 Above: Here is the church with a large bell outside to call settlers to service; the bell is covered with Cyrillic writing. The church interior has obvious and dominant Russian Orthodox features.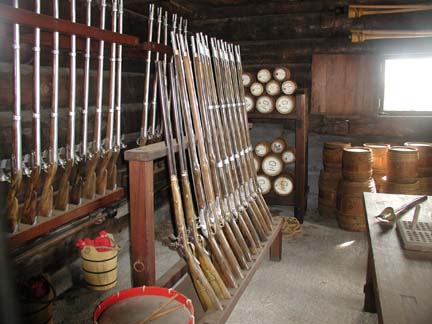 Above: The Fort's armory.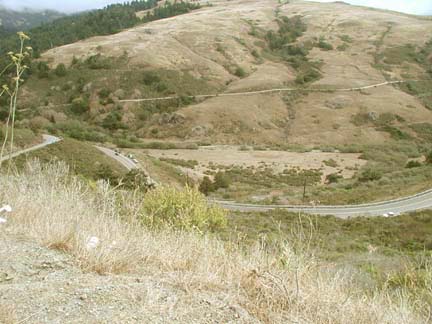 Above: After lunch we climbed a series of large switchbacks. At one point there was a long line of cars, RVs, and trucks waiting behind Highway Patrol cars. They let us go through, saying that there was a truck accident ahead, but that we were O.K. to go through. So we rode on almost trafficless roads for a mile or so, then...
Above: ...we came across the accident. A logging truck had tried to make one of the hairpin turns at too high a speed and had dumped his load, almost completely blocking the road. We narrow bicyclists could pass; eventually they let cars pass, too. But RVs, trucks, and buses had to wait a long time before they could continue on Highway 1.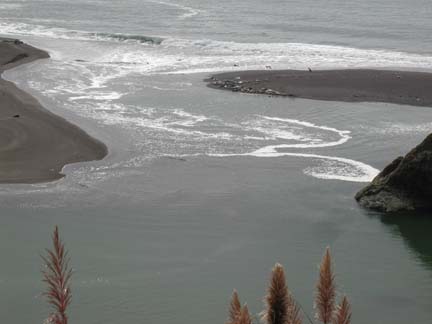 Above: Near the town of Jenner, we rode past the Russian River delta, which is a favorite hangout for sea lions. There were about 50 sleeping in the hazy sunshine on the sandbar.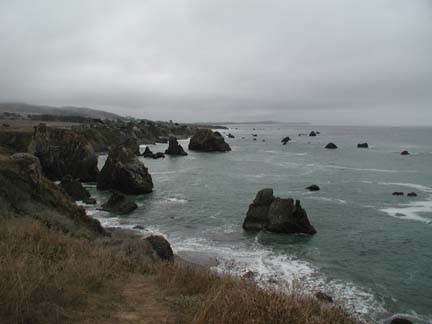 Above: This is the typical coastline view, which we enjoyed virtually all day.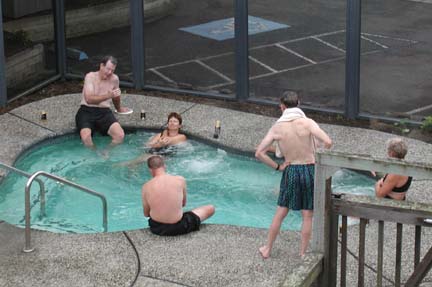 Above: At the end of the day, a number of bikers enjoyed the jacuzzi at the Bodega Coast Inn.
RIDE STATISTICS: Today we rode 49 miles with a total elevation gain of 2640 feet.
CORRECTION TO YESTERDAY'S RIDE STATISTICS: The total elevation gain yesterday was 3400 feet, not 1700 feet as reported on the September 20th Web page.