September 19 - From Miranda to Fort Bragg
DESCRIPTION: Mileage: 83 miles. Terrain: Two challenging ascents before returning to coastal rollers. Highlights: Today we returned to the coast after conquering Leggett Pass. We traveled through several small communities perched on the coastal bluffs before reaching Fort Bragg.
OVERNIGHT: Best Western Vista Manor, Fort Bragg (707.964.4776)
TRIP DIARY/PHOTOS:
Having endured blistering heat the day before, he group left relatively early--after a substantial breakfast of bacon, scrambled eggs, home fries, and hot cereal prepared by Chef Hans. The ride to lunch was difficult, with 2500 feet gained, but we passed through many lovely redwood groves and climbed to viewpoints overlooking the Eel River and thickly forested canyons. By lunch, the heat at the picnic ground foretold a grueling climb ahead. Leggett Pass, at 2000 feet, is the highest pass on the Pacific coast, and all of that elevation is gained over just four miles. The group climbed it in the noon sun with temperatures over 90 degrees. The climb was followed by a screaming five-mile downhill full of hairpin turns. Then another 500-foot climb and another sweet downhill, where we finally began to feel the cooling influence of the Pacific Ocean blowing up through the canyon. Once we hit the ocean, we were all under the false belief that it would be just a nice, fairly flat, coastal ride to our motel in Fort Bragg. Instead, we faced a series of winding, steep coastal rollers that added another 1500 feet to our day's gain.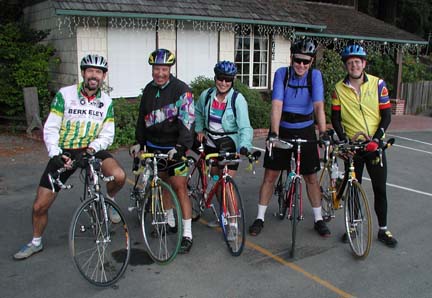 Above: Dave, Ray, Gail, Bernie, and Eric pause briefly before an early roll-out to avoid the withering heat.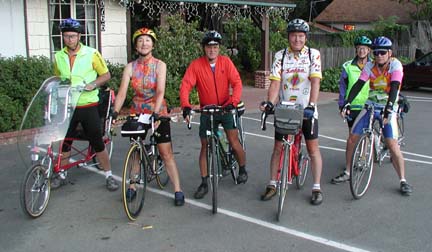 Above: Allen, Barbara, Bob, Harold, and Patty and Ken on their newly-repaired tandem headed down the road a few minutes later.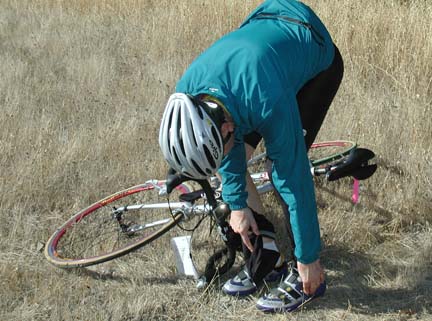 Above: For the first time since leaving the Canadian border, Leonard removed his leg warmers to cool off in the morning's gathering heat. (He's from Chandler, Arizona, and is used to biking in over-100-degree weather, but has been cold since the beginning of the trek.)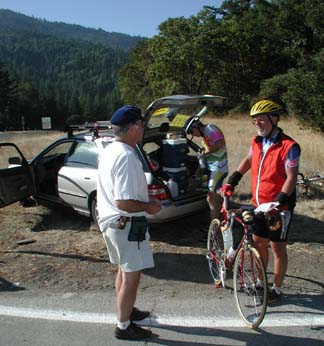 Above: John chats with Hans about the terrain ahead.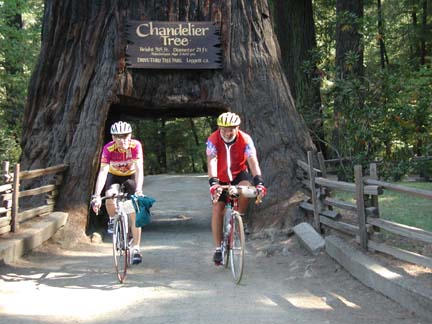 Above: Leonard and John roll through Chandelier Tree, located in a private park with a nice picnic area where we enjoyed another delicious lunch before attacking the big hills.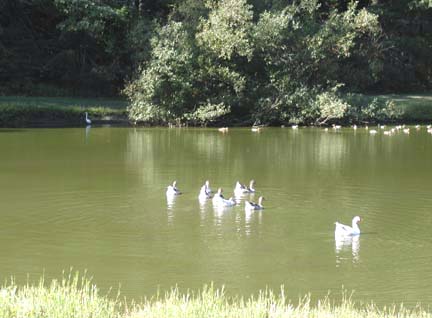 Above: The geese and herons also favor this park.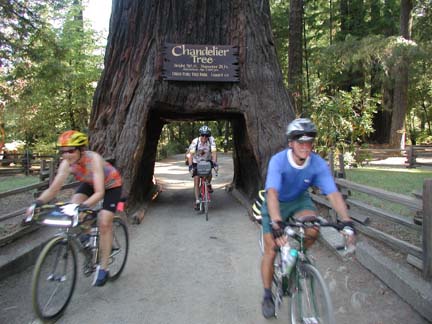 Above: Barbara, Harold, and Bob take their turn riding through Chandelier Tree before sitting down to lunch.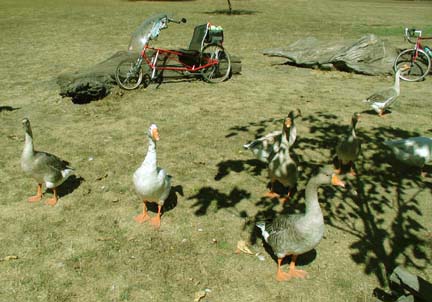 Above: The geese turned out to be panhandlers, circulating through the picnic tables looking for handouts.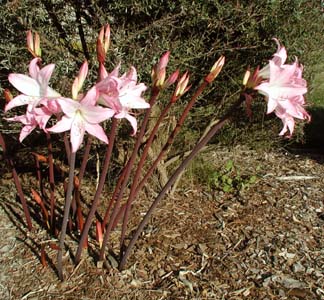 Above: We took no photos of the Pacific Coast, which was a mistake! It was rugged, rocky, clear, and full of sparkling sunlight. This time of year, the roads were lined with stands of Naked Ladies, so-called because they have only green leaves for 6 months in Spring and Summer and then go dormant. In September, they bloom without any leaves, thus the term naked; the ladies comes from their lovely soft pink color. They grow wild here in Mendocino County.
RIDE STATISTICS: Today we rode an extremely hard 83 miles with 6170 feet of overall altitude gain, much of it in searing heat. All of us were thoroughly exhausted at the end of the day. Happy hour was animated with stories of how we experienced the day.
Postscript about yesterday's Web connection from Miranda: Our lovely cottages in the woods did not come equipped with phones. There were a number of pay phones nearby, but one can't use a pay phone for a Web connection. Barbara managed to connect to the Web by bribing the bartender at the tavern across the street for ten minutes of connect time using his bar telephone! Can you imagine Barbara with her laptop propped on the bar while the local folk gawked and asked questions. The bartender kept walking past and looking at the screen and asking again and again, "Are you sure you can make my phone work again after you're through?" She also had to put up with the kitten that lived in the bar that thought her phone cord was a string to play with.