September 16 - Layover day in Crescent City, CA
DESCRIPTION: Rest day.
OVERNIGHT: Holiday Inn, Crescent City (707.464.3885)
TRIP DIARY/PHOTOS:
Today was a rest day. A day off the saddle was exactly what we all needed! Mainly it was a day for clothes-washing, bike-cleaning, and just plain doing nothing in particular.
Most of us watched the Olympics opening ceremonies last night on T.V. and slept in this morning as long as we could. We found breakfast to be one of the highlights of the day. The Holiday Inn has an extraordinary continental breakfast; you don't usually expect things like waffles, French toast, and eggs with a continental breakfast, but that is what they had, and lots more, too.
Jim had to visit the medical clinic in Crescent City to have his abscess rechecked. After that, he and Barbara took a long walk around town.
John had a visit from his wife Michele.
Throughout the day, the new riders were arriving. We had finally had a chance to meet everyone at the orientation session that evening.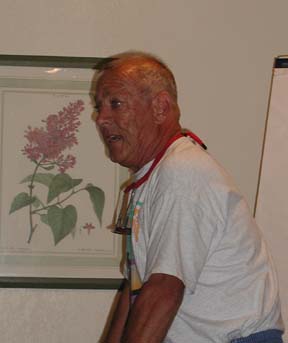 Above: We have a new tour leader for the Northern California leg of the tour, Pete Nickland.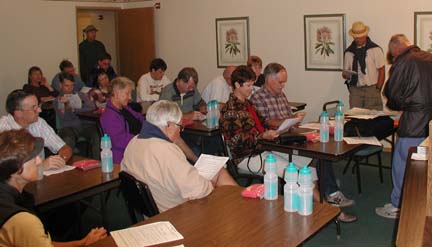 Above and below : The group is significantly larger for this segment. We have a total of 23 riders. Many are veterans of previous Scenic Cycling Adventure tours, with lots of good stories demonstrating why they are back for more.
The ongoing group doing the ride from Canada to Mexico still consists of John, Leonard, Brian, Barbara, Jim, Bob, and Harold. Burt and Gail on the tandem are still with us, doing the Oregon and Northern California segments. In the new group, four are from Southern California, two from Northern California, four from Colorado, and others from Michigan, Indiana, and Washington.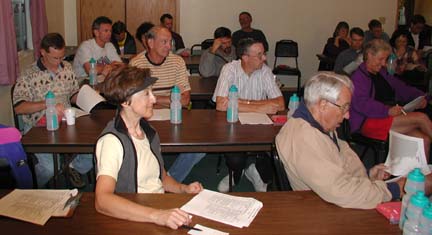 RIDE: None today.
JIM'S MEDICAL REPORT: Jim was examined by a physician's assistant (PA), who told him that there might be another abscess under the existing cavity. The PA widened the hole and probed around, but there didn't seem to be any more infection. The likelihood is that there is a lipoma (fatty tumor) that will require further examination when he returns to Redondo Beach. Reopening the almost-healed wound effectively eliminates any possibility of getting back in the saddle before the end of the trek.