September 15 - From Gold Beach to Crescent City, CA
DESCRIPTION: Mileage: 57 miles. Terrain: Short 500 - 800 foot climbs to Brookings and mostly flat to Crescent City. Highlights: Fabulous oceanfront vistas with sand beaches, rugged cliffs, and sea stacks. South of Brookings we cross into California, passing through farmland before reaching Crescent City.
OVERNIGHT: Holiday Inn, Crescent City (707.464.3885)
TRIP DIARY/PHOTOS:
Today was the last day of the Oregon leg of the trip. A number of departing riders needed to get in to Crescent City early to complete travel arrangements, so the entire group had breakfast early and hit the road between 7:30 and 8:00 a.m. It was partly cloudy all day, with temperatures averaging around 65 degrees. That's perfect cycling weather!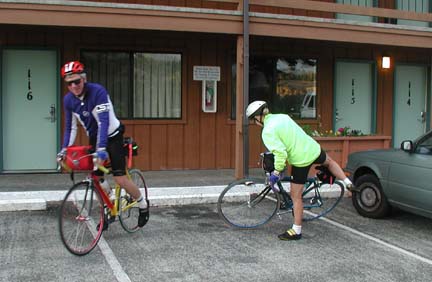 Above: Butch and Lynn get an early start from our motel in Gold Beach. They will be leaving us at the end of the day and returning to their home in Tacoma. Gary and Annette will also be leaving; Annette will return to work in Indianapolis and Gary will stay on in Portland for a mountain biking competition.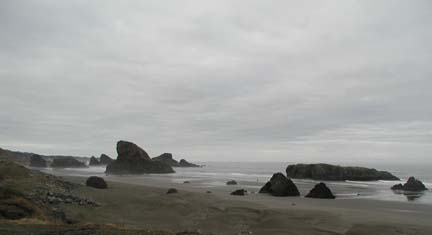 Above: We started the day with a major three-mile climb, followed by a continuous series of challenging coastal rollers. Virtually the entire morning, we cycled on coastal bluffs overlooking the rugged Oregon Coast.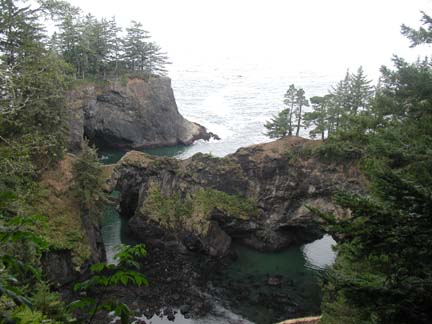 Above: Here we took a short side trip to a promising-sounding viewpoint: Natural Bridge Cove.
Above: Jim and Hans found us, and we went through the normal refueling routine. Here, Harold fills a plastic bag with Hans' home-made trail mix.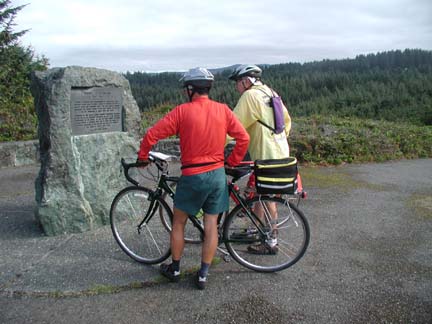 Above: We took another side trip to a promising viewpoint and found a memorial to Samuel Boardman, Oregon's first Superintendent of Parks.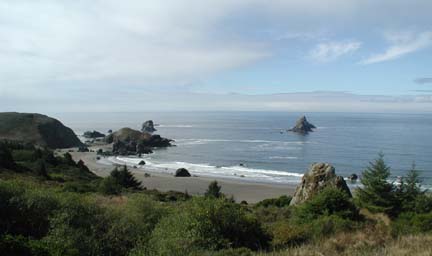 Above: Another rocky outcropping set between two sets of major coastal rollers. It's hard to make yourself stop, look, and take a picture when all you really want to do is pedal like crazy to build up speed for the next hill!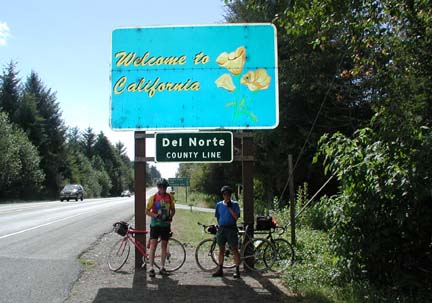 Above: Finally, we crossed the border to California. But first we had an outstanding lunch on our own at the marina in Brookings. We found a great fish-and-chips place and followed that with an ice cream from the local parlor. When the lady at the counter found out we were biking from Canada to Mexico, she gave us all super-sized scoops of ice cream...almost a pint for each of us! Wow, was that great!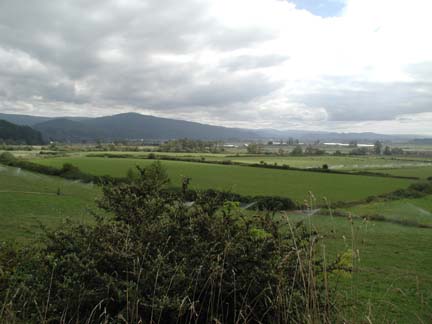 Above: The country between Brookings, Oregon and Crescent City, California consists largely of fields of easter lilies and cattle ranches. We biked mostly on low-traffic rural roads paralleling the Coast Highway.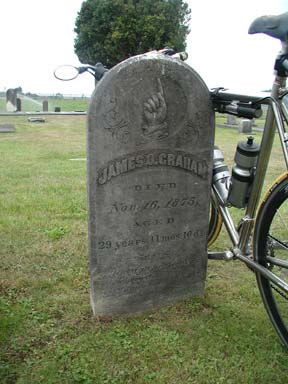 Above: Here we stopped to view the gravestones in an old cemetery. Also, we spotted a much-needed porta-potty nearby.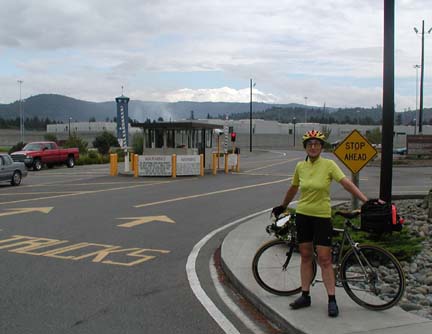 Above: The infamous Pelican Bay State Prison is situated just north of Crescent City. Here, Barbara poses in front of the guard gate to the prison, the toughest in all of California. It is often referred to as the new high-tech Alcatraz; there is a controversy over whether it is so high-tech that it borders on the inhumane. Absolutely no prisoner ever wants to be sent to Pelican Bay!
Ride Statistics: Today we bicycled 57 miles with a total elevation gain of 2240 feet, and most of that was in Oregon. For those doing the full border-to-border ride, it didn't seem very tough. Two weeks of on-the-road training has toughened all of us.
Total Oregon State Ride Statistics: We rode 437 miles with a total elevation gain of 16,920.
Total Washington Plus Oregon Ride Statistics: We rode 891 miles with a total elevation gain of 32,407 feet--equivalent to climbing Mount Everest PLUS another 3000 feet!