September 12 - From Yachats to Winchester Bay
DESCRIPTION: Mileage: 52 miles. Terrain: Moderate climbs from 300 - 500 feet most of the day. Highlights: More rugged coastline with spectacular vistas. Oregon Dunes National Recreation area, with time to stop for a dune-buggy ride. The small fishing village of Winchester Bay is our destination tonight.
OVERNIGHT: Rodeway Inn, Winchester Bay (541.271.4871)
TRIP DIARY/PHOTOS:
Today continued to be lovely, mild weather. We had sunshine and tailwinds and reportedly one of the most beautiful parts of the Oregon coast to explore.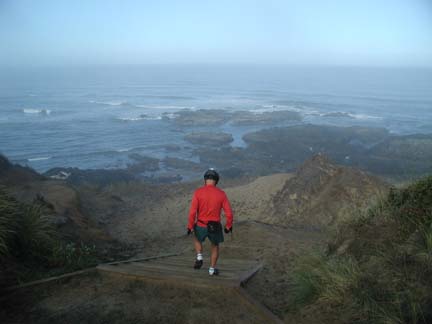 Above: We started out shortly after 8:00 a.m. and there was still a little morning haze. Here, Bob took a jackrabbit run down to the beach tidal pools to see if he could spot any seals at Seal Rocks. We didn't see any there, but later in the day, we did spot seals barking at each other in one of the large coves, apparently with a lot of fish!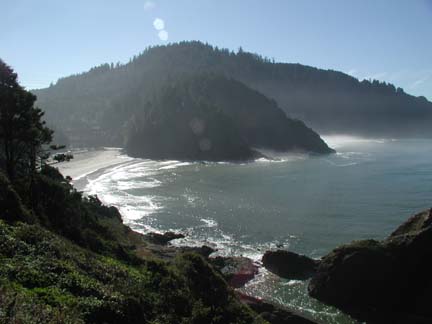 Above: We got off the bikes and climbed up to Heceta Head lighthouse. This is the view back down from the lighthouse.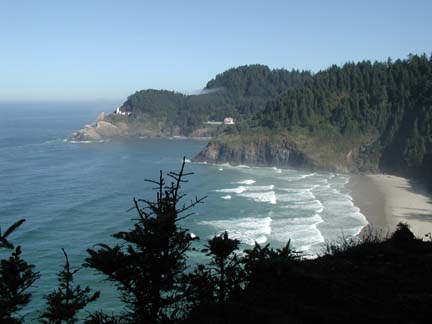 Above: This was Heceta Head lighthouse from the opposite side of the cove.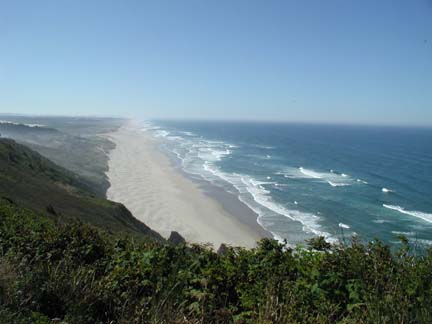 Above: Miles and miles of gorgeous beach.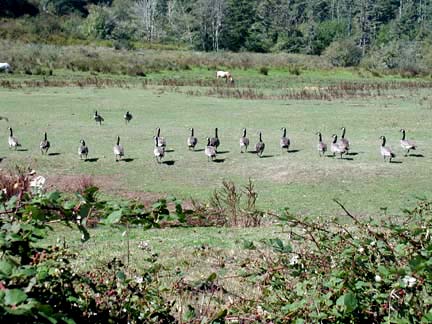 Above: A flock of Canada geese feeding in a horse pasture.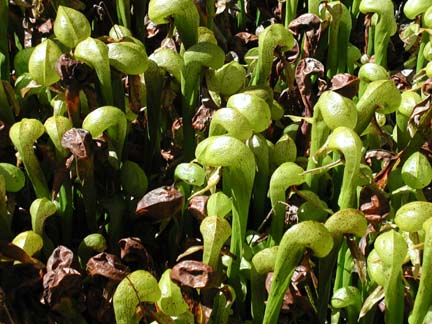 Above: We stopped to visit the Darlingtonia Botanical Gardens, where the main attraction is these carnivorous cobra lilies.
Above: There are lots of sand dunes along the coast and some places allow dune buggies, fortunately not these dunes!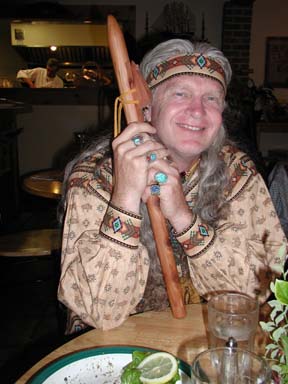 Above: When we got to the motel, we had a special treat! Hans' brother-in-law, Jeff McIlvenna (541.271.5477), who makes Native American-style wood flutes, came over to our Happy Hour and showed us how he makes them in the traditional way, then played a dozen different instruments for us. He later joined the group for dinner at the local bistro. Here he is at the dinner table with one of his favorite flutes.
Ride Statistics: We rode 55 miles today with a total elevation gain of 2370 feet. Most hills were very pleasant coastal rollers, and none exceeded an eight percent grade. Overall, it was an outstanding day of cycling.