September 11 - From Lincoln City to Yachats
DESCRIPTION: Mileage: 50 miles. Terrain: Mostly flat to rolling with a 600-foot climb over Cape Foulweather. Highlights: Another scenic day with lots of variety. Visits to Devil's Punchbowl, where the ocean churns wildly; Yaquina Head Lighthouse, rumored to be haunted; and Agate Beach, known for its translucent stones. We will relax in our oceanfront lodging in quaint Yachats (pronounced "ya-HOTS"), overlooking the Pacific. Special Note: Jim and Barbara will meet their very close friends, Joel and Tina Kneznekoff, who will drive over from Eugene and spend the night. Joel and Tina are very experienced long-haul bicycle tourists.
OVERNIGHT: Fireside Motel, Yachats (541.547.3636)
TRIP DIARY/PHOTOS:
Today was fabulous, sunshine, tailwinds, and visits from dear old friends!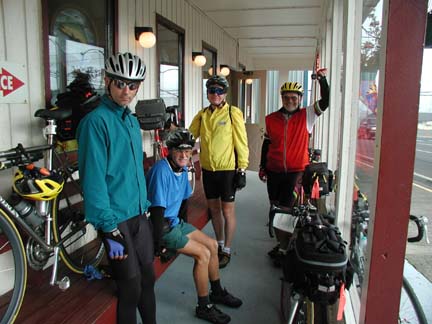 Above: The day started with a breakfast stop at Sip 'n' Sand, which bears the subtitle: just darn good food. The spot fit its name exactly: outstanding home cooking. From left to right: Leonard, Bob, Harold, and John.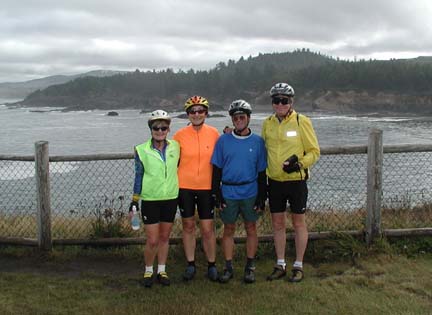 Above: A brief early morning stop at Boiler Bay Wayside State Park. From left to right: Lynn, Barbara, Bob, and Harold.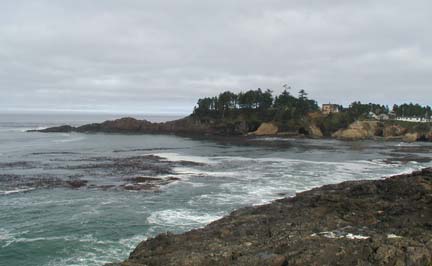 Above: Arch rock.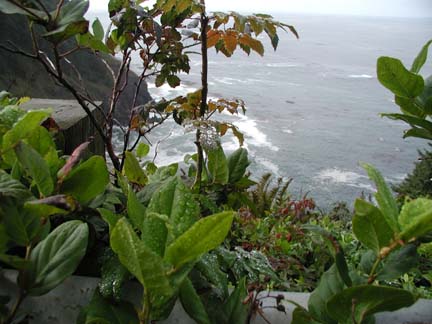 Above: We saw no rain today, but the dew was thick on all the foliage.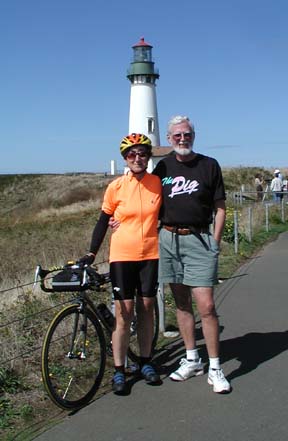 Above: Barbara ran into Jim (driving with Hans in the sag wagon) at the Yaquina Head Lighthouse.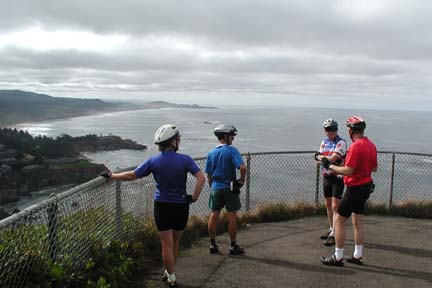 Above: Lynn, Bob, Harold, and Butch exchanging biking stories at one of many outstanding overlooks.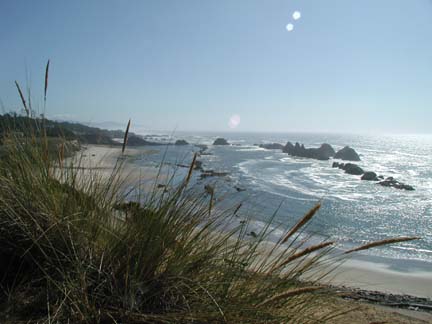 Above: The beach near Seal Rocks.
Above: Jack Robb, these photos are for you! We visited the Oregon State University Aquarium. Just before we left, we managed to catch the giant octopus being fed. The octopus, named Stretch, has grown six feet in six months and is 10 feet wide. He eats three crabs a week. I tried to get the magnificent color changes as he attacked the crab, but unfortunately the shot didn't come through with the flash and the dark water. He was very friendly and curious, and of course he knew it was feeding time!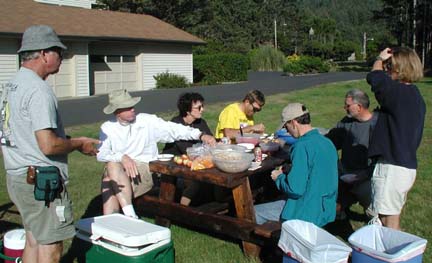 Above: The group gathered for happy hour outside our motel in Yachats. From left to right: Hans, Kurt, Gail, Brian, Leonard, John, and Annette.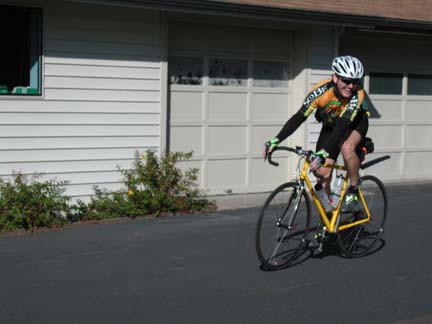 Above: Gary wanted some more miles, so he was the last one in after doing an additional 15 or 20. He rides a hand-built pro bike made by Cherry Bikes; it's made of ultrathin steel tubing and the total bike weighs only 18 pounds.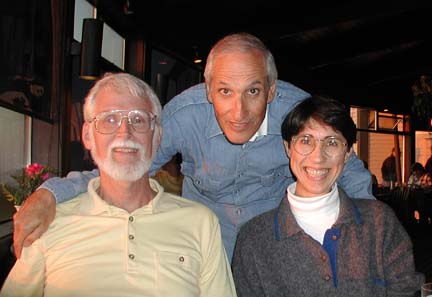 Above: In Yachats, Barbara and Jim met up with their dear friends Tina and Joel. Last week Tina and Joel just returned from a seven-week-long, self-supported bike tour across Oregon, Idaho, Montana, and Wyoming.
Ride Statistics: Today was an easy 55 miles with many opportunities to stop and explore the coast. Nobody was concerned with their averages today. Everyone just enjoyed the great weather and exhilarating biking. The total elevation gain over the day, mainly from coastal rollers, was 1300 feet.