September 10 - From Tillamook to Lincoln City
DESCRIPTION: Mileage: 63 miles. Terrain: Two short, serious climbs over Cape Mears and Cape Lookout, then flat to rolling, before heading inland along the Nestucca River into virgin forests, with a 700-foot climb before arriving in Lincoln City. Highlights: Coastal forests, historic dory fishing village of Sandlake, and scenic oceanfront riding before reaching our beach-front lodging in Lincoln City.
OVERNIGHT: Surfside, Lincoln City (503.994.2191)
TRIP DIARY/PHOTOS:
It rained for most of the day. This was one of our toughest days so far, with many hard climbs. Because of the poor visibility in the rain, many opted to cut the ride a bit shorter to avoid climbing to lookout points that might be fogged in.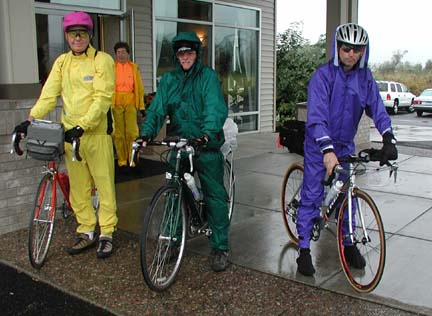 Above: Harold, Bob, and Leonard start out from the motel in the morning in full rain gear. Note Barbara coming out the door in the background.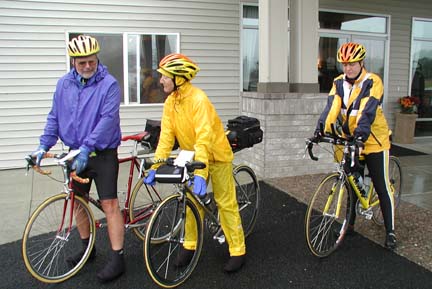 Above: John, Barbara, and Laura take off shortly thereafter.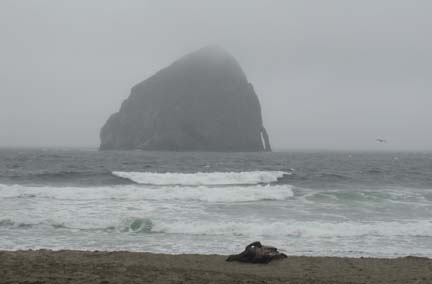 Above: Our luncheon stop was at Cape Kiwanda State Park. Odd rock formations crop up all along the Oregon coast.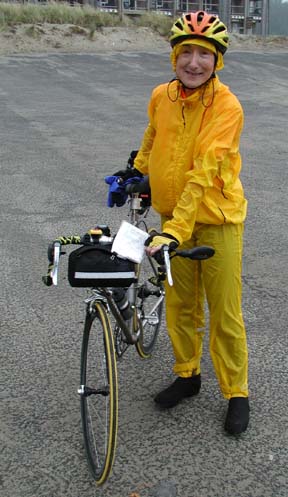 Above: Barbara pulls into the luncheon stop looking damp but happy!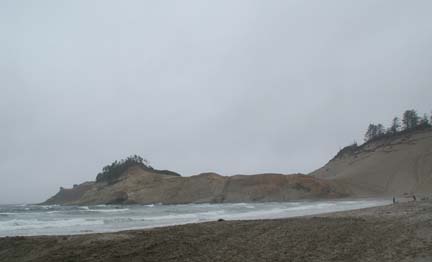 Above: We pass a beach with a multitude of sand dunes. There are lots of dune buggies around but no one out in the rain...only us crazy bikers!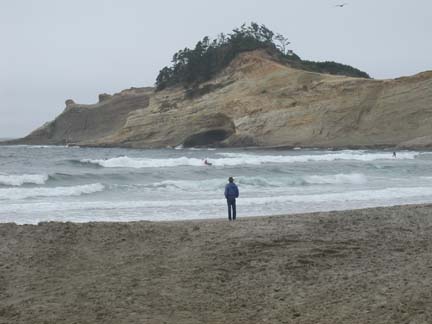 Above: Of course, the surfers are out, too...nothing stops them. They long for stormy weather that brings high surf. Note the Daggers (short kayaks) in the middle distance.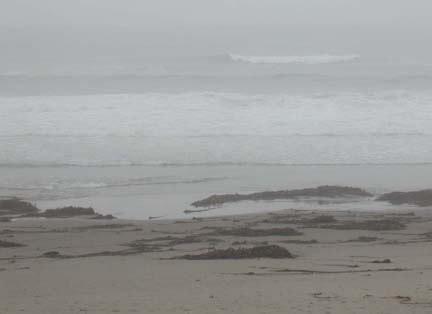 Above: We end our ride today at a lovely beachside motel in Lincoln City. We all have balcony views overlooking the storm-tossed sea.
Ride Statistics: The shortest route was 48 miles, but even this one involved more than 2800 feet of elevation gain. Those that opted for the full 63 miles (Bob, Harold, Leonard, Annette, and Gary) clocked more than 4000 feet of elevation gain! It was a wet day, but this did little to lessen the high spirits of our hearty bikers.
Because of the bad weather, we had to cut out the planned happy hour on the beach deck. But most riders just wanted to relax with a hot shower and a good rest.
Road Conditions: Despite the rain, road conditions were very good to excellent along the route. There was little traffic, and most motorists stayed very wide of us, not wanting to add to our wetness with spray from their cars.