September 8 - Layover day in Astoria, OR
DESCRIPTION: Rest day
OVERNIGHT: Bayshore Motel, Astoria (503.325.2205)
TRIP DIARY/PHOTOS:
Today was a rest day: time for laundry, shopping, and bike-cleaning.
In the morning, we said farewell to Nancy and Larry, who returned to their home in Los Angeles after completing the Washington leg of the tour (they have previously biked the full Oregon and California coasts). They plan to rejoin us in Ventura on September 30 to bike the Ventura-to-Redondo Beach segment.
Six new riders joined us today for the Oregon leg of the tour beginning tomorrow. All of the new riders are couples. There are Annette and Gary Dowell from Indianapolis, Butch and Lynn Hennings from University Place, WA, and Burt and Gale Ward (riding a tandem) from La Habra, CA. Together with the original group, we now total 14.
Above: Brian and Barbara cleaning their bikes.
Above: Hans Dobusch, originally from Berlin, Germany, joins us as tour support driver and sag host. Patty (a.k.a. "Mom") Nielson, our Washington sag hostess, will rejoin the group again in San Francisco.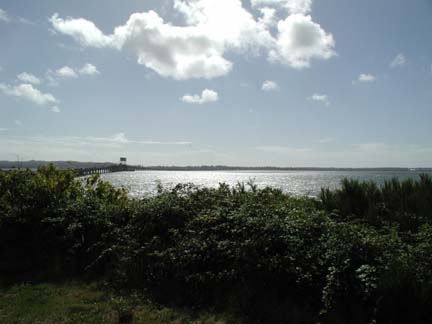 Above: The afternoon was lovely and mild at about 60 degrees. From the motel, we could gaze West, across the Young's Bay Bridge, where our tour begins tomorrow.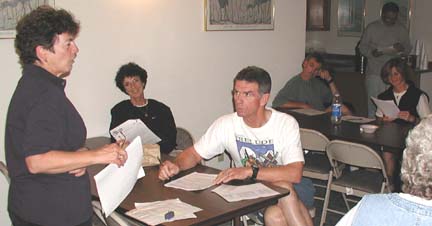 Above: The group got together for an orientation meeting in the motel breakfast room. From left to right: Sandy Green, Gale and Burt Ward, Gary and Annette Dowell, and John Fashing in the background.