September 5 - From Forks to Lake Quinault
DESCRIPTION: Mileage: 68 miles. Terrain: Rolling to hilly. Highlights: Leaving Forks, we continue to cycle in the shadow of Mt. Olympus. We get our first glimpse of the Pacific Ocean with her wave-battered coastline before heading inland to glistening Lake Quinault and the Quinault Rain Forest.
OVERNIGHT: Lake Quinault Lodge, Quinault (360.288.2900)
TRIP DIARY/PHOTOS: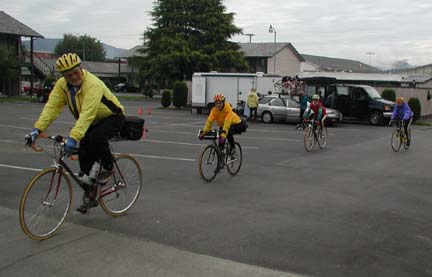 Above: Barbara is back in the saddle for the Forks-to-Lake Quinault leg of the trip. Here John, Barbara, Nancy, and Laura begin the day's journey. Larry had already gotten a five-minute head start. The rest of the group took a shuttle ride to Hoh Rain Forest, then joined the route at the 13-mile mark. Since they had to ride 13 miles in the rain forest, they still managed the full 68-mile ride.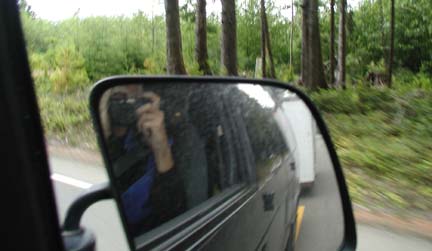 Above: After picking up some prescriptions at the Forks drug store, Jim heads out in the support vehicle armed with the digital camera. Here is a shot of himself, the camera, and the support vehicle!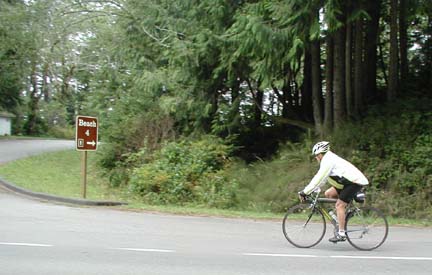 Above: Larry Carter is the first one into the lunch spot at Beach 4.
Above: The beach at Beach 4. [Yes, there were Beaches 1 through 6, in reverse numerical order!]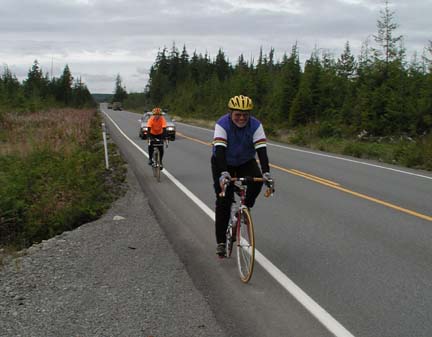 Above: John leads the way up the road with Barbara in hot pursuit. After lunch, the views open up with sweeping vistas of valleys and mountain ranges.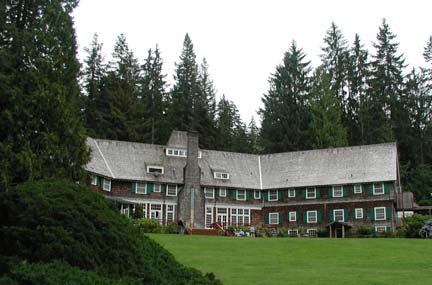 Above: Most of us arrive at the famous Lake Quinault Lodge at 2:30 p.m.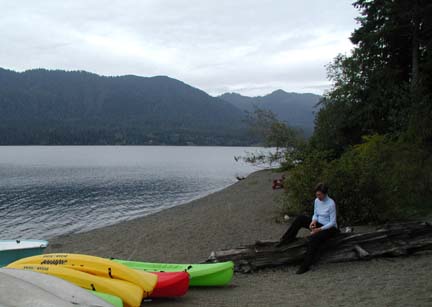 Above: Barbara on the shore of Lake Quinault.
Ride Statistics: Today we rode 67.9 miles with a total altitude gain of 2331 feet. Barbara and John averaged 14.5 mph. Nancy averaged a flat 15.0, and Brian, always at the head of the pack, averaged 17.3.
Today's ride was very straightforward, with few turns and only mildly rolling hills. There was no "liquid sunshine," but after some initial sunlight, the overcast became solid, and the air remained fairly cool. Road conditions were very good, with only an occasional logging truck to contend with.
Today, Barbara's knee problem was all but totally fixed. Over the whole 68 miles, she experienced only five miles of mild knee discomfort, but none of the sharp, stabbing pain she had experienced a day-and-a-half ago. So the 1/8-inch rise in saddle height, plus spinning faster in lower gears, did the trick!
Let's hope Jim also has a positive outcome in a few days!