September 4 - From Port Angeles to Forks
DESCRIPTION: Mileage: 68 miles. Terrain: Rolling to hilly. Highlights: Today we head west, passing Lake Crescent, the sleepy little town of Joyce, and the Pysht tree plantation. Then we turn south, passing quaint mill towns and lush conifer forests before reaching Forks.
OVERNIGHT: Forks Motel, Forks (360.374.6243)
TRIP DIARY/PHOTOS:
Today, Labor Day, Jim went to the emergency room in Port Angeles. He had been bothered by increasing groin pain yesterday afternoon. The pain did not go away much during the night and he started a mild fever. On closer examination, there turned out to be some swelling and discoloration. The doctor at the E.R. immediately diagnosed an abscess. For you nonbikers, an abscess in the saddle area is not necessarily a result of biking. It is common in all moist, warm areas of the body where bacteria can enter an oil or sweat gland and cause an infection; an abscess is a deep, encapsulated kind of infection. In Jim's case, the first line of treatment is a three-day regime of antibiotics. If that causes the abscess to go away, then he will be O.K. to try riding the rest of the trip. However, if the antibiotics do not do the trick, then the abscess will have to be lanced and packed to permit draining, and this treatment will take a month to heal. In that case, Jim will be unable to ride for the rest of the Canada-to-Mexico trip. We're keeping our fingers crossed that the antibiotics will do the trick in the next few days!
Barbara was suffering from sharp pains in one knee during yesterday's ride, and also decided to sag today. (Knee problems are the bane of cyclists. If you don't treat them right away, they can persist for months.) Barbara will raise her saddle height 1/8th-inch and try riding again tomorrow. Hopefully, the day-and-a-half rest should give that knee sufficient time to recover.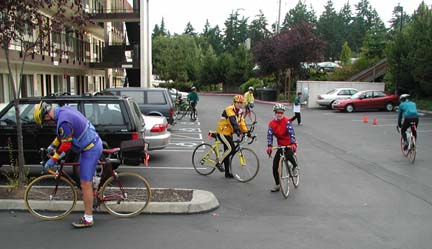 Above: Riders getting ready to leave our motel in Port Angeles for the ride to Forks. The riders are minus Jim, who is at the hospital, and Barbara, who is taking the day off to rest her knee.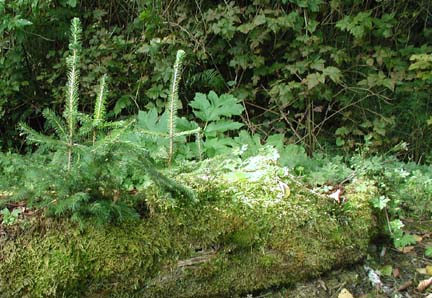 Above: Today's ride takes our group along the Puget Sound and then deep into the forests bordering the Olympic National Park. Luckily, it is a beautiful day without any rain! In the rain forest, it is common to see baby trees sprouting from moss-laden logs.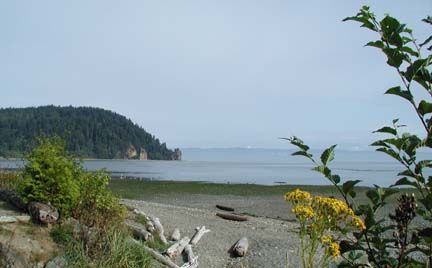 Above: Sandy, Jim, and Barbara set up lunch at the Pillar Point Recreation Area and wait for the hungry riders to arrive.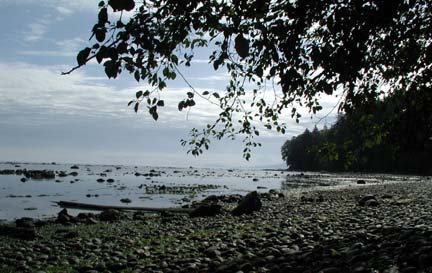 Above: Here the beach and tidal area is pebbled with rocks of all sizes...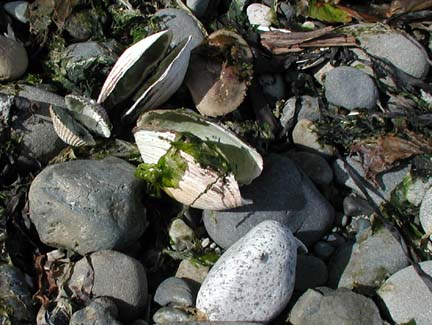 Above: ...and shells, many amazingly still whole.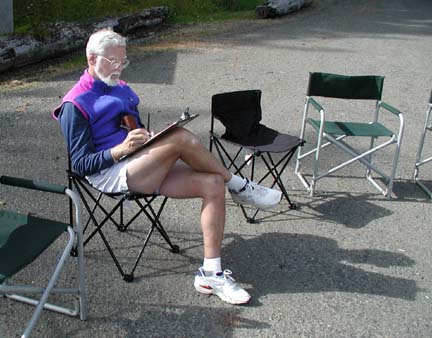 Above: Jim waits doing puzzles, wishing he were riding instead.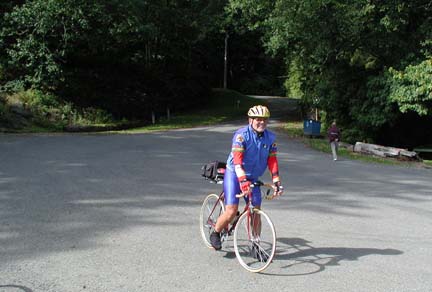 Above: John arrives at the lunch area, all smiles and hungry as a bear.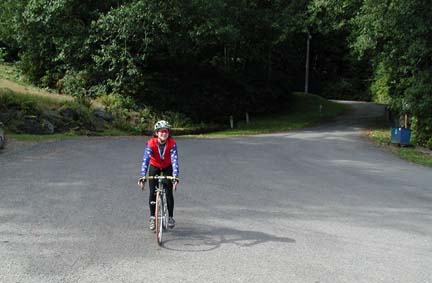 Above: Nancy smiles a warm greeting upon seeing the group gathered near the lunch buffet.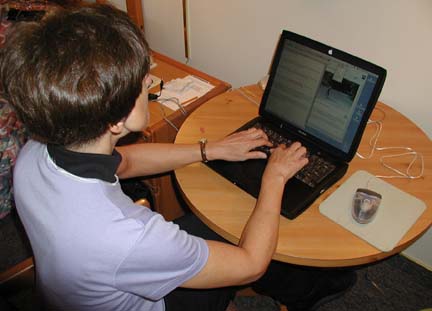 Above: Barbara at her laptop computer set up in the Forks Motel, bringing the latest on our trek to the world.
Ride Statistics: Total mileage was 68, and total elevation gain was 2991. The roads were surprisingly free of cars and trucks on this Labor Day. Today's roads were a long, winding tunnel of dark evergreens through rolling hills. Some climbs were serious: one of the upgrades was 10%, one of the long downgrades was 9%, and there was one three-mile-long 6% climb.