September 3 - From Port Townsend to Port Angeles
DESCRIPTION: Mileage: 49 miles. Terrain: Rolling to flat. Highlights: Bicycle through forests and rural areas.
OVERNIGHT: Portside Inn, Port Angeles (360.452.4015)
TRIP DIARY/PHOTOS: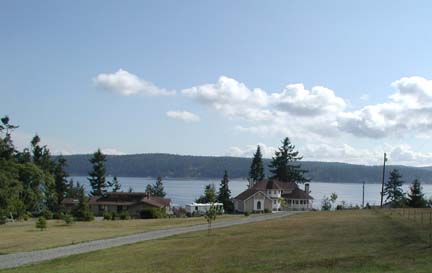 Above: Today, our third riding day on the trip, was our first day without any rain! See the blue sky above this lovely bay-front house we passed along the way.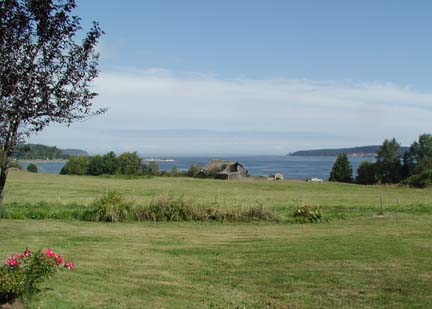 Above: Here's a ruined barn with a majestic view of the Puget Sound. Note the sky is even clearer!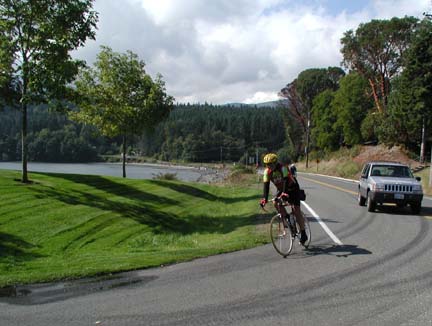 Above: John makes a high-speed turn headed for our lunch stop at Sequim Bay State Park.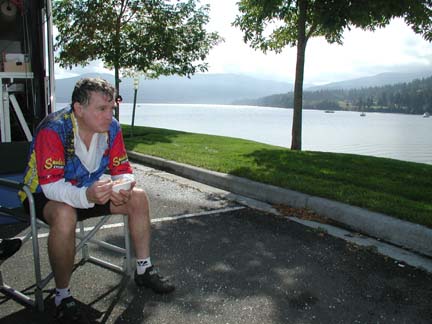 Above: Larry eating a welcome bowl of hot chili. Lunch included home-made German-style potato salad, sandwiches with all the fixings, including biker favorites peanut butter and jelly! There was a wonderful apple pie with tart, firm Washington apples for desert.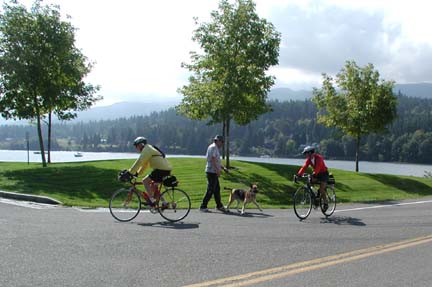 Above: Today Harold and Bob are the last ones into lunch. Typically the first, they said they stopped too often to take pictures. Note the dog lunging at Bob.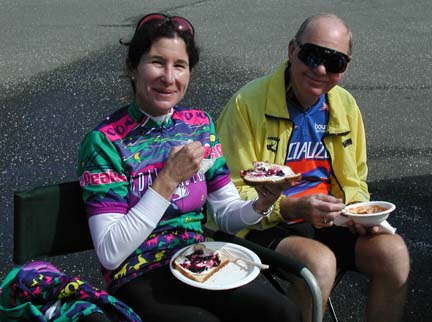 Above: Nancy finishes her lunch with a cream cheese and jelly sandwich, while Harold starts his with a bowl of chili.
Above: A lovely marina along the way.
Ride Statistics: The group split into two pelotons: one stayed on U.S. 101, where the pavement was a lot smoother, and clocked 49 miles through some very scenic areas; the other followed a 67-mile route through country roads, and took in a wild animal preserve. Total altitude gain today was 2421 feet.
Special Note: Barbara rode sag for half the route, resting a painful knee from climbing steep hills in too-tall gears. If she takes care of it now, the problem should go away before it gets worse.