September 2 - From La Conner to Port Townsend
DESCRIPTION: Mileage: 46 miles. Terrain: Rolling to flat with some serious hills. Highlights: Tour Whidbey Island and cross over to Port Townsend by ferry.
OVERNIGHT: Harborside Inn, Port Townsend (360.385.7909)
TRIP DIARY/PHOTOS: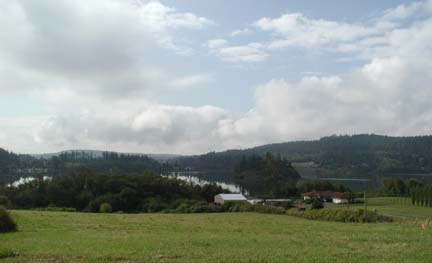 Above: Although it rained earlier in the morning, by ten o'clock the weather was magnificent. This was deceptive, for an hour later, while climbing one of two 13% grades, we got a serious downpour.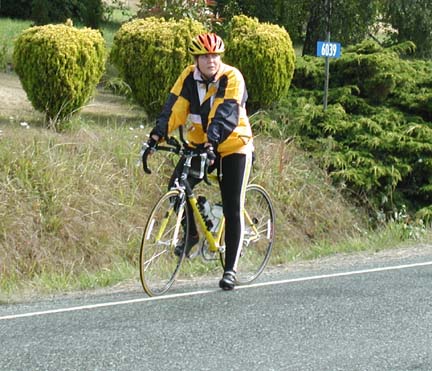 Above: Laura, a recent Colgate University graduate, scopes out a serious hill before attacking.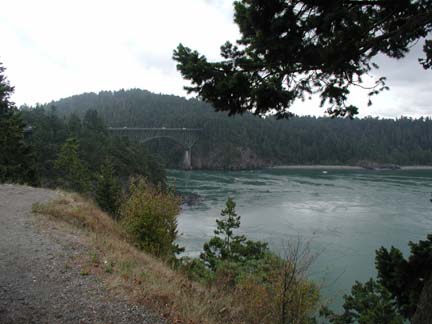 Above: The approach to Deception Pass, a narrow opening between Whidbey and Fidalgo Islands.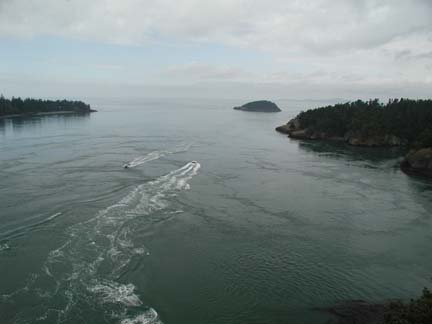 Above: The view from Deception Pass Bridge, across which we had to walk our bikes because of the narrow two-lane roadway.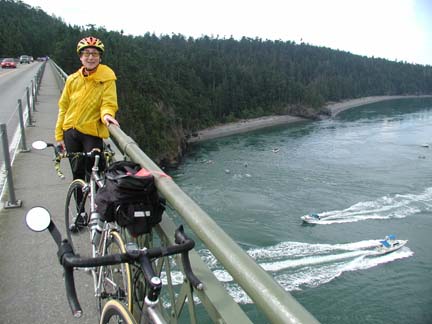 Above: Barbara resting halfway across the bridge. (After all, we're not used to walking!)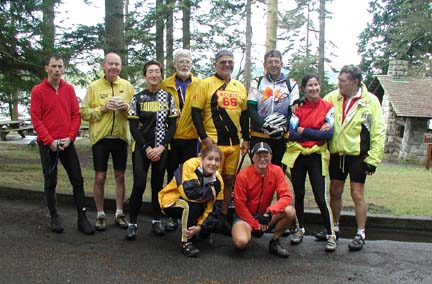 Above: The group posed in Deception Pass Park at its lunch stop. Lunch was another biker spectacular, including hot cheese-and-broccoli soup, which hit the spot on a cool day. Left to right: Leonard, Harold, Barbara, Jim, John, Brian, Nancy, Larry, and kneeling in front, Laura and Bob.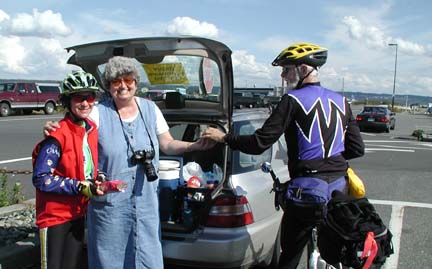 Above: At the Coupeville ferry stop, Jim and Nancy refuel from the sag wagon, skippered by Patty (a.k.a. "Mom"). Patty is always at the top of the hill or around the next bend, seeing to our every need, and cheering us on.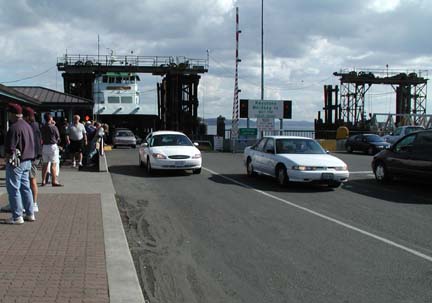 Above: Leaving the ferry at Port Townsend, we cycled a short distance to our hotel on the waterfront.
Ride Statistics: 52 miles at an average of 12.0 mph (due to the bridge crossing on foot, etc.). Total elevation gain today was 3200 feet.
Special Note: John Fashing, spurred on by the prospect of catching the tail end of the UCLA-Alabama game, averaged 14+ to make an early ferry, and tuned in to see the exciting finish.