September 1 - From Blaine to La Conner
DESCRIPTION: Seventy-four miles of flat to rolling terrain. From the border crossing just north of Blaine, we travel along the picturesque Bellingham and Samish Bays. There are magnificent views of the Puget Sound and San Juan Islands.
OVERNIGHT: La Conner Country Inn, La Conner (360.466.3101)
TRIP DIARY/PHOTOS:
Above: The international border, Peace Park in Blaine. It was showering as we ate breakfast, but the rain tapered off by the time we began pedaling. The border area is beautifully landscaped, with gorgeous flower gardens. From left to right: John, Jim, Barbara, and Leonard Zupko (an Intel software engineer from Arizona).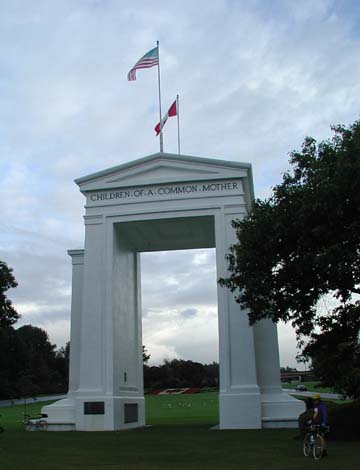 Above: The Peace Arch, reminding us of our common heritage.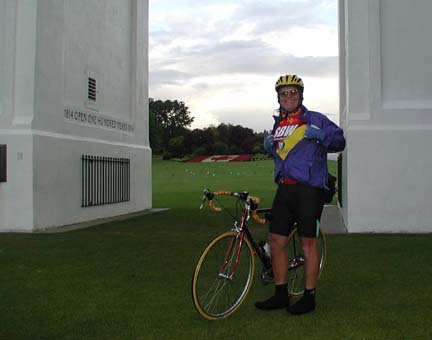 Above: John Fashing, sporting his South Bay Wheelmen jersey, celebrated his 57th birthday on the road.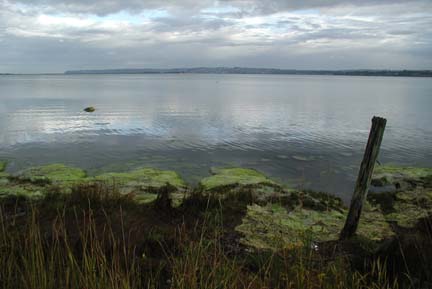 Above: View of Canada across a small bay off Puget Sound.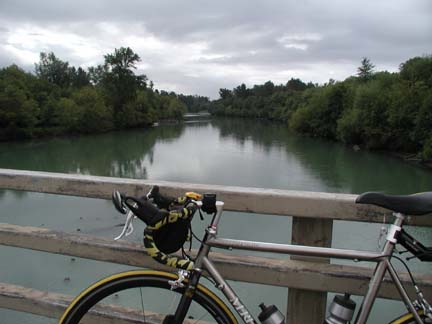 Above: The area we biked through is laced with rivers, lakes, and ponds. Here, a view from one of scores of bridges crossed.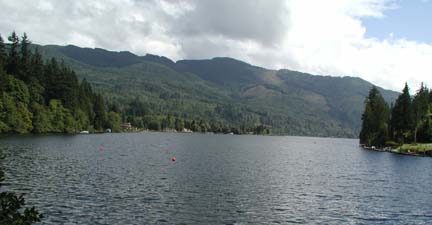 Above: Detouring around road construction, we circled Lake Samish.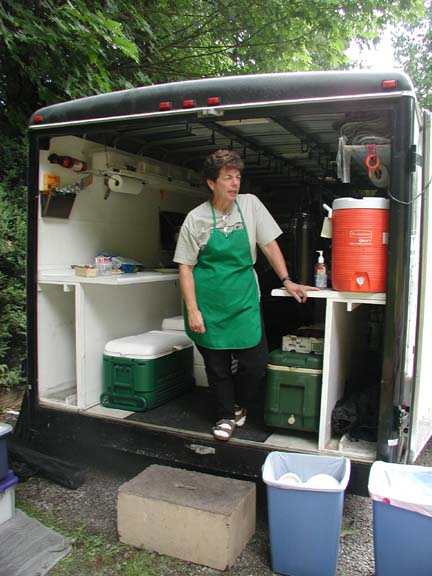 Above: At a small state park on the shore of Lake Samish, Sandy Green, owner of Scenic Cycling, served us lunch from the back of her trailer. Hungry bikers replaced the calories they consumed that morning by wolfing down pounds of bread, sliced cheese and meat, pickles, lettuce, tomatoes, fresh fruit...and chocolate-covered macaroons!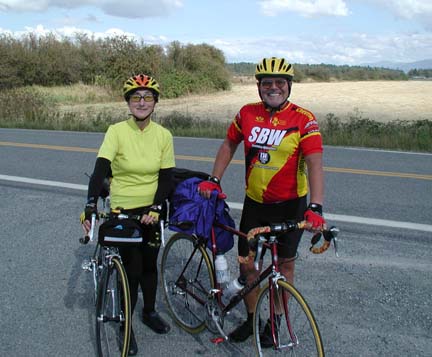 Above: John and Barbara take a break on a sunny afternoon in farm country. This area produces corn, apples, and blueberries.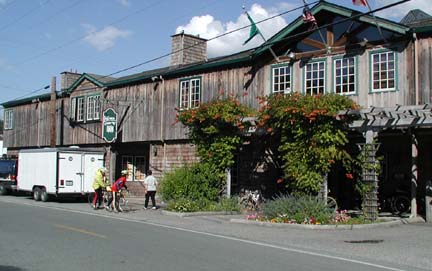 Above: La Conner Inn
Trip Statistics: We managed to average 13.0 mph in spite of rain, headwinds, and missed turns. Total elevation gain was 1,600 feet.