October 1 - From Ventura to Redondo Beach
DESCRIPTION: Mileage: 76 miles. Terrain: Gentle to moderate rolling into Malibu; short hills before returning to flat beachfront. Highlights: Beachfront riding through the Channel Islands Harbor, Malibu, and some people-watching at Venice Beach. We finished by riding straight to our home in Redondo Beach!
OVERNIGHT: HOME!
TRIP DIARY/PHOTOS:
Today was the last day of the ride for John, Jim, and Barbara. John left at the crack of dawn and did a speed run to Redondo Beach, arriving home at noon. John had plenty to do on this day before leaving by plane tomorrow to see his new house in Northern California. The rest of the group left at the usual time--around 8:00 a.m.--and were in Redondo Beach by about 2:30 p.m. It was a warm day with high overcast almost the entire day. Biking through Ventura and Oxnard, we were treated to views of three marinas, the Port Hueneme Naval Construction Battalion base, and Point Mugu Naval Air Weapons Center. All the guys had to stop and take pictures of the airplanes and missiles on display.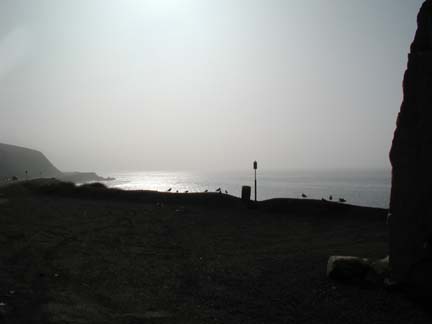 Above: This was Barbara's home turf, so she led a group consisting of Harold, Leonard, Mike, and both Bobs all the way from Ventura to Redondo Beach. Barbara pulled them at a hot pace...after all, she was headed home.After the first 22 miles, we arrived at "Slot in the Rock," which is first sight of ocean after biking through the Ventura-Oxnard peninsula.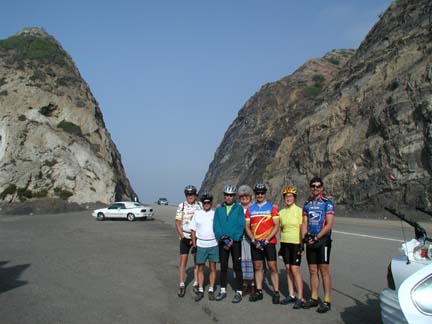 Above: Patty was waiting for us at the "Slot" with hot coffee and other goodies for refueling. From right to left: Harold, Bob, Leonard, Patty, Bob, Barbara, and Mike.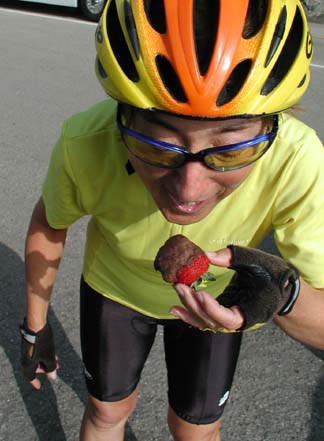 Above: One of the treats of the morning snacking was chocolate-covered strawberries. Patty had fixed them the night before to serve at a special end-of-the-ride party at our Ventura motel. She had purchased giant fresh strawberries at a farm, then cooked the chocolate in a microwave and dipped all the strawberries herself! She made so many that there were about a dozen left over for the morning snack.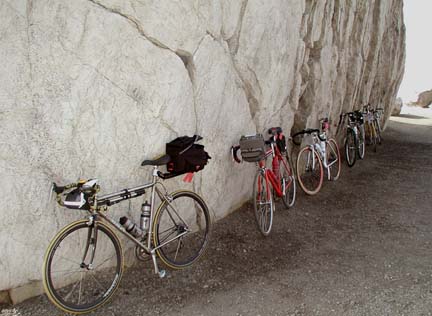 Above: This side of the "Slot" made a great bike stand.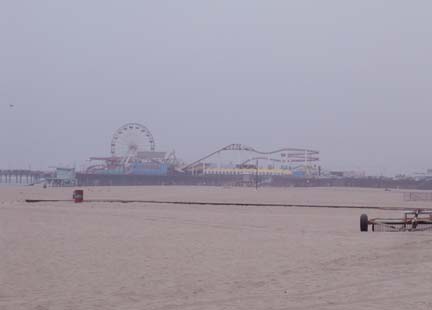 Above: By mile 57, we biked under the Santa Monica Pier, where we stopped to look back and take photos. A few miles further down the beach bike path, we got to famous Venice Beach, where we walked our bikes and took in all the weird sights.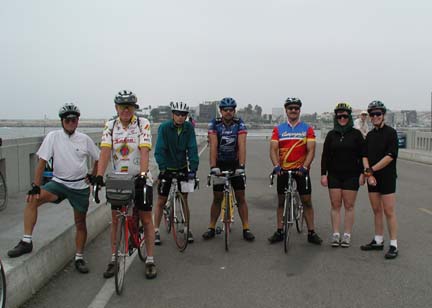 Above: By mile 63, we were at the bridge at the mouth of the yacht channel into Marina Del Rey. By chance, Barbara met two of her "Monkey Butt" riding friends, Maureen and Kelly. Both were completing a Sunday ride from Culver City to Redondo Beach and back. They immediately phoned Sylvia, another dear "Monkey Butt" friend with the news of Barbara's imminent arrival. As a result, Sylvia was waiting at Barbara's home with flowers, cheers, and hugs when she arrived about an hour later .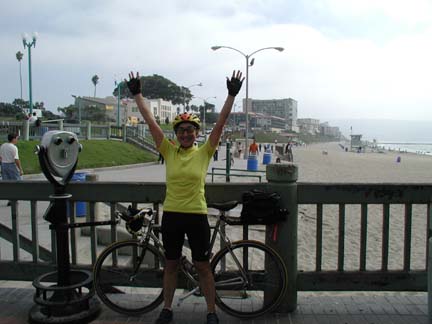 Above: When Barbara got to the Redondo Beach Pier, she was ecstatic. Harold, Bob, Leonard, and Barbara stopped for an ice cream at the Pier. For Barbara, it was a short four-minute bike ride home; for the rest, it was an eight-minute ride to their Redondo Beach motel. Later that evening, Jim and Barbara picked the group up for a group dinner at a local pasta restaurant. It was sad to say goodbye, but we know that we will stay in touch; after all, we have shared a once-in-a-lifetime experience.
RIDE STATISTICS: Today's ride totaled 76 miles with a total elevation gain of 990 feet. Brian averaged 18.3 m.p.h. The group led by Barbara averaged 14.1 including walking their bikes through Venice.
TOTAL SOUTHERN CALIFORNIA RIDE STATISTICS: We rode 533 miles with a total elevation gain of 19,820 feet.
TOTAL WASHINGTON, OREGON, NORTHERN CALIFORNIA AND SOUTHERN CALIFORNIA RIDE STATISTICS:
So far on the Canada-to-Mexico bike trip, Barbara, Bob, Brian, Harold, John, and Leonard have ridden 1,831 miles with a total elevation gain of 74,247 feet!
REDONDO BEACH TO MEXICAN BORDER:
This segment of the trip will add another 155 miles with a total elevation gain of 1210 feet.
Barbara and Jim did this segment on July 21 and 22.
John did the Redondo Beach-to-San Diego segment on July 21. It was his intention to ride the full 155 miles from Redondo Beach to San Ysidro on October 3rd; however, the new house has complicated and delayed these plans.
Harold, Leonard, Brian, and both Bobs will do this segment on October 2nd and 3rd. Since Barbara, the trip's Webmistress, will be back at work at this time, their travels will not be further documented here.
TOTAL CANADA TO MEXICO RIDE STATISTICS:
This trip was 1,981 miles with a total elevation gain of 75,457 feet.
For each of us, it was truly an experience of a lifetime!