July 22 - From Mission Beach to the Mexican Border
DESCRIPTION: Mileage: 30 miles. Terrain: Flat. Our final day takes us around Mission Bay, near Sea World, past the airport, through metropolitan San Diego, by ferry to Coronado, then along the Silver Strand to San Ysidro and the Mexican border.
OVERNIGHT: Drive back to our home in Redondo Beach.
TRIP DIARY/PHOTOS: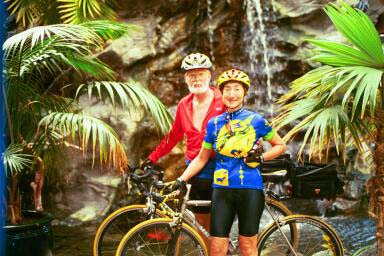 Above: It looks like Hawaii at the Catamaran Resort Hotel in Mission Beach! This is Barbara and Jim in the hotel lobby, getting ready to leave. John has made alternative plans to do the Redondo Beach-to-Mexican Border part of our trip on October 3 as a marathon 150-mile, one-day event. So this day, we are on our own, just the two of us and an easy 30-mile recovery ride to the Mexican border ahead of us.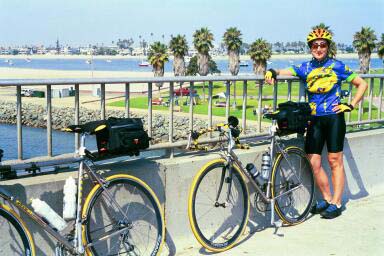 Above: Barbara pauses for a photo opportunity overlooking Mission Bay.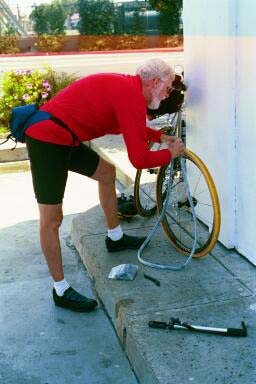 Above: Jim fixes a flat tire near Point Loma.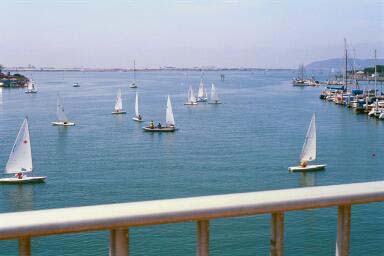 Above: We cross a bridge near Harbor Island and catch a school of Laser sailors.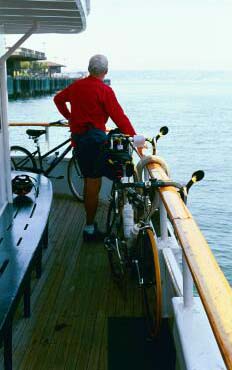 Above: In downtown San Diego, we take the ferry to Coronado. Bicyclists are frequent passengers on this ferry: there were at least 15 of us on this trip. It give us a great opportunity to meet other cyclists and get useful cycling news.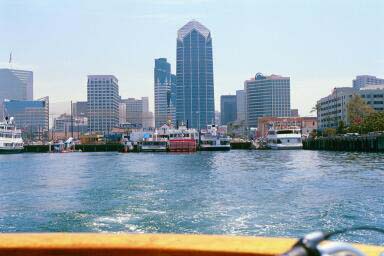 Above: The ferry departs downtown San Diego.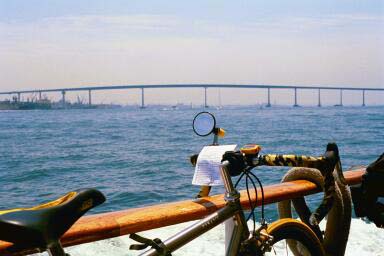 Above: The Coronado Bay Bridge with Barbara's bike hanging on the rail in the foreground.
Above: Victory in San Ysidro at the Mexican Border.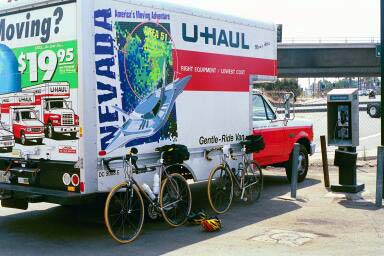 Above: We rent a U-Haul trailer in San Ysidro for our two 20-pound bikes! Before leaving San Diego, we stop by the Catamaran Hotel to pick up our luggage from the night before. We have to tie everything to the walls of the truck so things don't bang around in the cavern!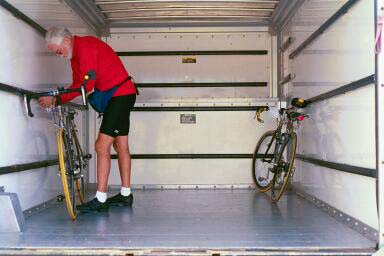 Above: Two lonely bikes in a big U-Haul!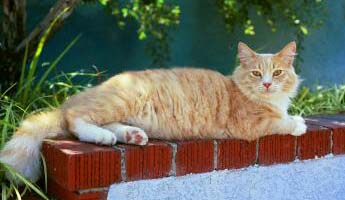 Above: Cougar greets us when we return home. Over the weekend, Ed, a college student from Cal State L.A., takes care of our house and cat. Cougar does well with his new friend and Ed manages to study for midterm examinations as well as take the afternoon off to enjoy the beach.