July 21 - From Redondo Beach to Mission Beach
DESCRIPTION: Mileage: 125 miles. Terrain: Flat to rolling. Every year we do this trip which is called MB2MB (Manhattan Beach to Mission Beach). This trip brings together a motley group of riders--a bicycle cop, a pool contractor and his psychologist wife, a dentist, some bike shop owners, etc.--who have gathered every year for the last 20 or so without prior notification. We cycle south along the Southern California coastline, with a small detour through Camp Pendleton in Oceanside. The big challenge is to climb the Torrey Pines "Wall of Death" after cycling over 100 miles. After that, it's all downhill to the hot tub in Mission Beach!
OVERNIGHT: Catamaran Resort Hotel, Mission Beach (858.488.1081)
TRIP DIARY/PHOTOS:
We began our 125-mile bike tour at 6:00 a.m., and this year there were 20 riders in our group.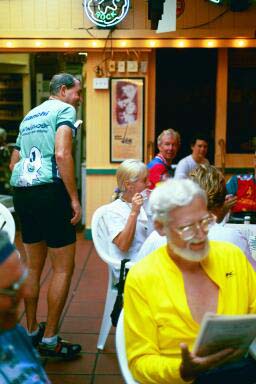 Above: Our first stop was for breakfast at the Harbor House Cafe in Sunset Beach. We take over the whole back patio area and catch up on biker news. Jim looks at the menu; that's John in the fuzzy foreground.
We set a good pace, averaging about 15 miles per hour.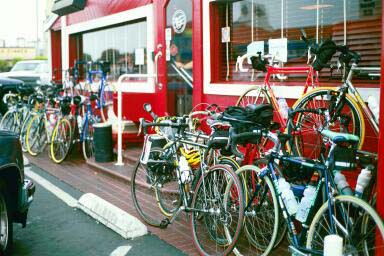 Above: 20 expensive road bikes lean against the Harbor House Cafe. What an opportunity!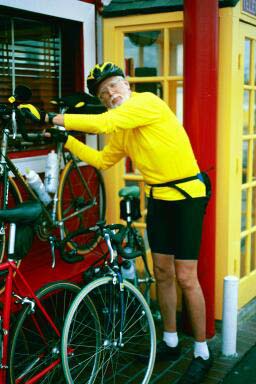 Above: Jim gets his bike down and is ready to go.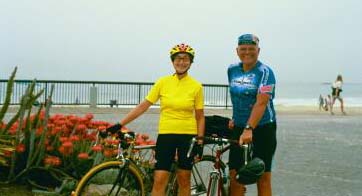 Above: John and Barbara pose for a photo opportunity at the Laguna Beach Boardwalk, our mid-morning stop. We were plagued by moderate headwinds caused by a early morning "Catalina Eddy."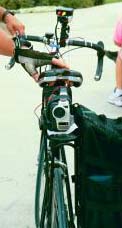 Above: Mike Cahan set up his bike with camcorders front and back! Throughout the day, he kept encouraging us all to draft off his back wheel.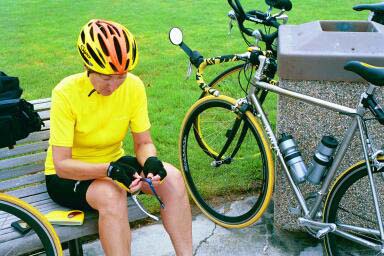 Above: Barbara changes her prescription lenses for her biking glasses from overcast yellow to sunlight brown.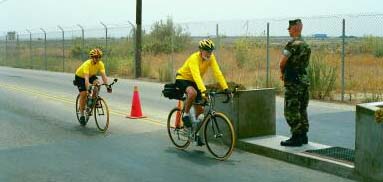 Above: Jim and Barbara bike through the Camp Pendleton guard gate at the beginning of the after-lunch leg of the trip. This is the only part of the trip that detours away from the ocean. The base is hot and hilly.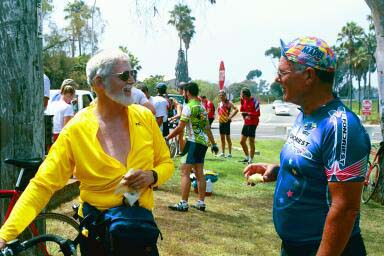 Above: Our mid-afternoon stop at a grassy knoll in Oceanside just after completing the Camp Pendleton part of the trip. At this point we've all done about 90 miles and we're still smiling! But Jim explains to John how he got a tremendous cramp in his hamstring muscle at mile 88, toward the end of the Pendleton leg. It was so painful, he had to get off the bike and walk a few hundreds yards to work it out.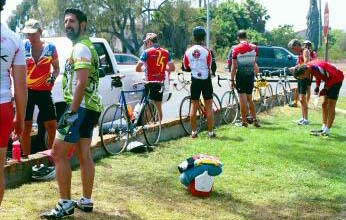 Above: The group prepares to move on to the last leg of the trip: through Oceanside to Del Mar and the Torrey Pines "Wall of Death." That's a huge, long hill at the 100-mile mark which goes up and up for four miles! It's not steep, just long.
The riders stop at the top of the Torrey Pines hill for the traditional swig of Cuervo Gold tequila. Then, smelling the hay at the barn, so to speak, it's a mostly downhill mad dash to the Catamaran Hotel and the hot water soaking pool.
Ride Statistics: Overall we averaged 14.9 mph over the 124.6-mile trip. Many riders, including John, said they enjoyed the easy pace, but Barbara admits she worked very hard to keep up, and she's proud she managed to do so!
We started our Canada to Mexico trip with the hardest day. All the other days should be a piece of cake after this!