August 31 - Orientation, Blaine
DESCRIPTION: Mileage: 0 miles. Highlights: Fly to Seattle, transfer to Blaine, check out bike, attend orientation meeting with fellow bicyclists and tour leader.
OVERNIGHT: Anchor Inn Motel, Blaine, WA (360.332.5539)
TRIP DIARY/PHOTOS: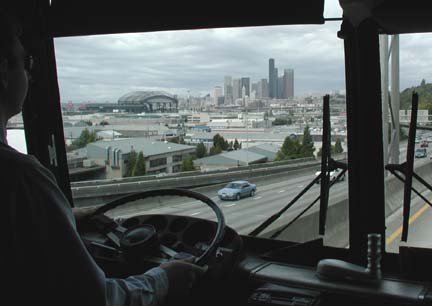 Above: We arrive in Seattle by Southwest Airlines and transfer to the Airporter bus to Blaine. Here's a veiw of downtown Seattle through the bus window. The driver was Sergey, a Russian immigrant who makes his home in Bellingham.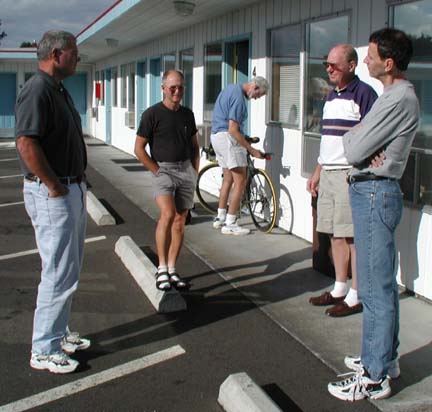 Above: We arrive in Blaine and meet some of the rest of the group. Here Jim is checking out his bike while John talks with Bob, Harold, and Leonard.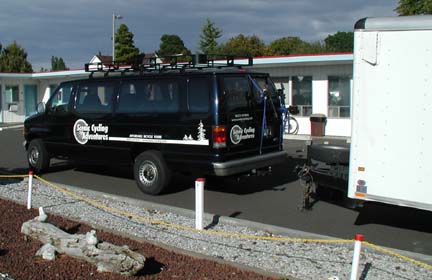 Above: The Scenic Cycling van and support trailer.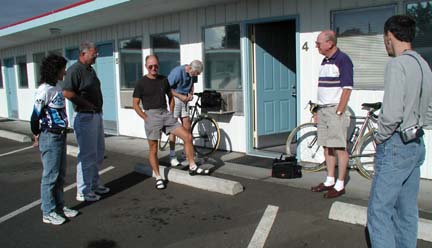 Above: Jim finishes mounting the rack on his seatpost. Nancy, another rider, joins the group. Nancy will only be biking the Washington leg of the trip.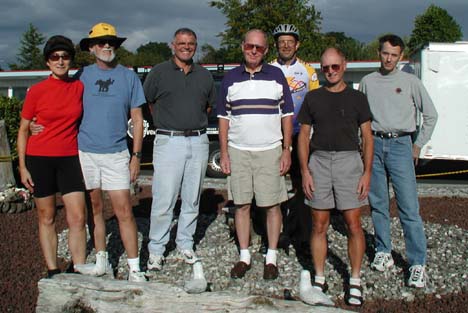 A group photo of all seven who will be doing the complete Canada-to-Mexico bike trip. From right to left we are: Barbara, Jim, John, Harold, Brian, Bob, and Leonard.
Wondering why this report was posted on 9/1/00 and not 8/31/00? Well, blame it on the third-world Verizon phone system in Blaine. A local call was $2.65 and took half an hour to complete. Needless to say, it was impossible to get an Internet connection.